In 1990, two freshwomen at the University of Oregon got fed up with all the boy bands on campus, so they proclaimed themselves to be their own band. After a few months of talking themselves up, they were invited by a friend in Olympia, Washington, to play a Valentine's Day show. There was just one problem: They hadn't written any songs yet. With the pressure of the approaching gig, they threw together a set, and that is how Bratmobile came to play its first show opening for Bikini Kill in early 1991. The rest is punk rock history.
A similar music-where-your-mouth-is moment takes place roughly midway through We Are the Best!, Lukas Moodysson's endearing and ramshackle new film about a band of punk girls in the early 1980s. Middle-schoolers Bobo, Klara, and Hedvig have been messing around with instruments in the practice space at their youth center for several weeks, or perhaps months, when the loopy counselors who rule the roost there announce that the center has been invited to bring some talent to a "Santa Rock" post-Christmas concert in a town an hour away. Iron Fist, the center's resident band of sexist metalheads, are of course a no-brainer for the show, but the counselors have decided it would be cool, they say, to bring "a girl band" as well. The three members of the group, which still hasn't troubled itself to pick a name, recoil: "We're no girl band." They've already learned there's something shameful, maybe even unpunk, in being girls. But they remain certain, anyway, that theirs is the world's greatest band.
This exuberant auto-fandom is one of the great pleasures of We Are the Best! Variations on it show up in all the best punk movies, from 1982's indispensable Ladies and Gentlemen the Fabulous Stains to 1994's indie-rock cult classic Half-Cocked. The quintessential punk success story, after all, is not the Mighty Ducks-type triumph narrative of misfits who come out on top; it's the less obvious story of misfits who insist on expressing themselves even though the world may never appreciate their bravery and beauty.
We Are the Best's story is a simple one, told in handheld, verité-style shots with a loose-limbed, improvisatory style. Quiet and anxious, Bobo lives with her mom, who's more interested in her own dating life than in noticing whether her only child is at home on a school night. Bobo's best friend, Klara, is bold and self-assured, alight with adolescent indignation at her own dorky family. The friends share a love of punk, but at first that just means listening to other people's bands on their Walkmen and defending the genre against dismissive classmates who've moved on to Human League.
Harassed by the shredmeisters in Iron Fist, the girls take revenge by signing up for the boys' time slot in the youth center's practice room, and the counselors admit that the girls have a right to the time they claimed. The sign-up sheet "is there to prevent chaos," one counselor intones as he leaves the girls to their cacophonous inaugural jam. It's punk insurrection with a Scandinavian twist: rebelling not by breaking the rules but by insisting that they be followed on behalf of the less privileged. When a gym-class debacle inspires the new band's first song, "Hate the Sport," they rail against not rules per se, but systems that are indifferent to the needy: "Children in Africa are dying / But you're all about balls flying."
G/O Media may get a commission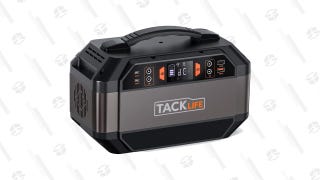 Tacklife Portable Solar Generator
Bobo and Klara recruit Hedvig, a shy classical guitarist whose fortitude in the face of talent-show heckling earns their awe. Hedvig teaches her new friends about chords and downbeats; they give her a new haircut and encourage her to be more assertive. And with that, the band is complete. In the rest of the film, the trio trash-pick huge sacks of yarn, eat ice cream, get crushes on boys, fight and make up, provoke a thumping good riot at their first show, and generally spin appealingly around that vertiginous pivot point between childhood and adolescence.
Does the movie chime with what it's like to be a punk rock girl today? Yes and no. Stockholm in 1982 is very different from the world that the punk girls of the 1990s through the present have made and passed along. Unlike the women of Bratmobile and countless girl punks since them, Bobo, Klara, and Hedvig have no feminist support network to tap into, no rock & roll girls' summer camp to get them listening to the Raincoats and encourage them to set up all-ages shows, no Riot Grrrl zines or Bandcamp pages to connect them to peers and fans. In the middle of a capital city, they're remarkably isolated; they never even go to a concert.
But the film—which is based on an autobiographical novel the filmmaker's wife, Coco Moodysson, wrote about her own coming of age—touches more general truths about being young and longing for an underground that you fear may no longer exist. For decades, growing up punk has meant worrying that the promised land for weirdos has closed its gates forever, dooming latecomers to the stigmatized status of being "post." "Punk is dead. Didn't you know that?" sneers a snooty girl in We Are the Best, wrinkling her nose at Klara's soap-spiked Mohawk. Yet the aftermath of this pure origin—an origin that maybe only ever exists in retrospect—may be the most liberating, and empowering, place there is. After all, if nobody knows where to find the real punks anymore, then nobody can tell the girls they're doing it wrong. Klara, Hedvig, and especially Bobo all have their private moments of vulnerability. Then they step to their instruments, and the grins start spreading. Punk rock lets them be their own biggest fans.
Sara Marcus is the author of Girls to the Front: The True Story of the Riot Grrrl Revolution. Follow her on Twitter here.
The Concourse is Deadspin's home for culture/food/whatever coverage. Follow us on Twitter:@DSconcourse.