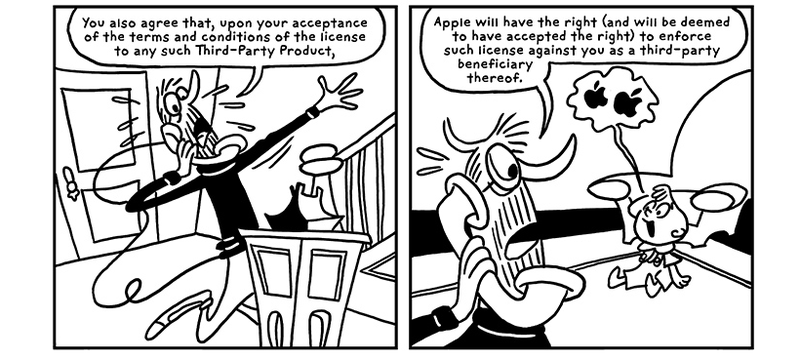 When iTunes hits you with their Terms and Conditions, you click "accept" and move on. It would take you a very, very long time to actually, you know, read it like you're supposed to. But artist R. Sikoryak has come up with an easier, more enjoyable way to absorb it.
Sikoryak is perhaps best known for Masterpiece Comics, a book where he adapted classic pieces of literature into comic-style art. Shakespeare meets Batman! Highbrow meets lowbrow! It's great. Here, in a similar vein, various pages of the iTunes Terms and Conditions are executed in the style of iconic cartoonists. Page 48 is done in the style of Chester Gould, who created Dick Tracy. Page 53 (above) mimics the likes of P.D. Eastman (think Are You My Mother?) and Dr. Seuss (think Green Eggs and Ham). Page 49 is done in the vein of John Romita and Don Heck, known for Spiderman and Iron Man, respectively.
He may still not compel you to read all the text yourself, but Sikoryak definitely had to just to make all this, right? Which would make him the only human alive to ever do so. You can see the whole thing on Tumblr.