"We need to talk about Jackie," All Saints Hospital nurse Zoey (played by Emmy winner and excellent speech-giver Merritt Wever) warns her boss as the penultimate episode of Nurse Jackie's sixth season winds down. That's an understatement. The show's titular caregiver and reckless drug addict (Oxycontin being her preferred little blue pill), played to memorable imperfection for the past five years by Edie Falco, has relapsed so hardcore that for the first time in the Showtime drama's run, its anti-hero is a straight-up villain.
Her transformation over the past dozen weeks from glazed optimism to dead-eyed survival, as communicated by Falco's controlled, facially expressive performance and director Jesse Peretz' invasive emphasis, has been a remarkable arc, especially when you consider that a half-decade in, Jackie could have very easily settled into an ER-ward-like routine by now. Rather than spinning their storytelling wheels, executive producers Caryn Mandabach, Liz Flahive, and Richie Jackson have responded to Showtime's continued good faith (or what many critics would hastily dismiss as network complacency) with a dark and gritty season that's tested both their creative mettle and the fictional ensemble's limits.
In this Sunday's season finale (yeah, I've seen it, but no spoilers, I promise), Jackie is inspired by a devastating Miami hurricane to contemplate her own penchant for natural disaster, wondering aloud why people stay in her atmosphere, only to get tossed around like space junk. "They think they can ride out the storm," offers her consoling, equally un-centered friend/former flame Eddie (Falco's fellow Sopranos alum Paul Schulze). But they both realize Jackie's finally hit bottom, far beneath the tightrope of adultery and deception we've seen her walk the past five years.
For the first time, her self-destruction is getting in the way of saving lives, like the diabetic she nearly killed last week with an errant dosage. But her penchant for ruin affects everyone: Just ask teenage daughter Grace (Ruby Jerins, one of the few essential kids on a cable drama), who's experimenting with Oxy and rightly mortified when mom shows up to ex-husband Kevin's (Dominic Fumusa) wedding with their mutual drug dealer as a date. Or concerned if invasive sponsor Antoinette (Julie White), whom Jackie tricks into relapsing. Or naïve policeman boyfriend Frank (Adam Ferarra), who endures grueling withdrawal at her side, only to be cast off for his concern. Or, most horrifically, the alcoholic, suicidal patient whom Jackie persuades to take the heat for a doctor's stolen prescriber number.
Everything and everyone in her orbit, be they patients or terminally patient, is in danger. It's a bracing portrait of addiction that's made Jackie come alive. It's also a rebuke to observers who'd prematurely called the show's time of death around 2012 (season six received an average grading of 64 out of 100 from a scant four reviewers on critical aggregator Metacritic, and inspired entire essays on its supposed futility). But is it possible that just because Jackie's historically anchored Showtime's Sunday suite of half-hour adult dramedies (Californication, House of Lies, et al), it's been taken for granted or unfairly rounded up amid speculation over network-executive instinct? Or, perhaps, that the Carmela Soprano Fan Club simply folded up their tents when Jackie Peyton turned out to be the farthest thing from a fantasizing mafia wife?
G/O Media may get a commission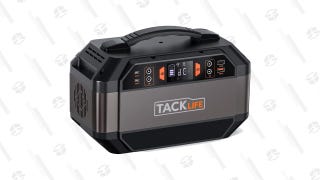 Tacklife Portable Solar Generator
That's not to say the show's altogether abandoned the workplace comedy that made it a natural time-slot complement to Californication (and, as it remains, a refreshing alternative to doggedly dreary premium dramas). Dr. Roman (Betty Gilpin, still foxy but fully clothed), perhaps having been diagnosed by the writers as too shallow a clinical presence, flourishes opposite Jackie's withering asides; the bumbling practitioner (and sexual predator) is now an assertive bedside healer unabashedly heartsick for Dr. Cooper (Peter Facinelli, somehow in a perma-Can't Hardly Wait state of ageless appeal), providing a sweet and silly sidebar to all the seriousness over at the nurses' station. Meanwhile, the game Facinelli even broke into song a few weeks back during a makeshift eulogy for All Saints' deceased lobby vendor, in the episode aptly titled "Candyman," the season's best to date.
But Jackie's grim descent is still the focus: She's battled with her habit in the past, but never been so callous; she's been cunning with others, but rarely so cold. Her reputations as a nurse and mother have constantly come under scrutiny, but now they're indefensible. This heightened drama has been exceptional from season six's onset, demonstrating that whatever Showtime's rationale with its lead-outs, Jackie gets kept around (once on the bubble, it now has another slate of episodes teed up for 2015) because it keeps things interesting.
By the fade-to-black-and-blue of Sunday's finale, this once well-meaning self-saboteur has unpacked a load of shit on her loved ones that's practically Walter White-lite. But quietly, in the relative privacy of Showtime's oft-renewed weekending lineup, Nurse Jackie has found reinvention through ruination, while Falco has shown us just how bad and broken one good woman can get.