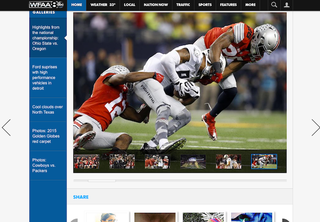 WFAA.com is the homepage for the Dallas-Fort Worth area's local ABC affiliate. Let's take a look at the homepage to see what the hot news of the day is!
Let's see, we've got some local weather reports—damn, it's going to be cold in Dallas this week!—and it looks like there's wall-to-wall coverage of last night's college football championship. Good work, WFAA. Okay, moving down the page now:
Boom, dick and balls. All up in your Tuesday morning. God bless.
h/t Jarrod