Earlier today, local news station NY1 stumbled upon a "mysterious" statue of a mostly naked Hillary Clinton "depicted with horse hooves, and standing on what appeared to be printouts of emails. The statue also featured a Wall Street banker pressed against her left breast." So of course, some shit went down. It was a lovely day in the city.
One woman apparently decided that destroying the statue was the best way to protect Hillary Clinton's dignity, much to the dismay of a young bystander who seems to have liked the statue just the way it was.
After the woman called the police to report "an obscene statue," a struggle ensued.
It stood outside the entrance to the Bowling Green subway station for a couple of hours without incident, but a dispute eventually broke out when a woman knocked it down, kicked it several times and sat on it.

"Why are you sitting on it?" one man said.

"Because I find this offensive!" she shouted.

"Freedom of speech!" the man shouted back.
A perfect microcosm of the United States, boiled down to a few mere seconds.
NY1 then reports that the statue was ultimately taken away "by an unknown person."
G/O Media may get a commission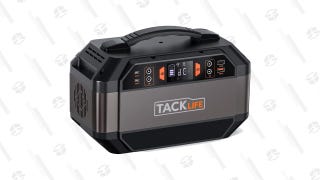 Tacklife Portable Solar Generator
Was this mysterious statue puller Hillary Clinton herself? It's hard to say for sure, but—almost certainly, yes.
You can watch the full video over at NY1 here. I cannot possibly recommend it enough.