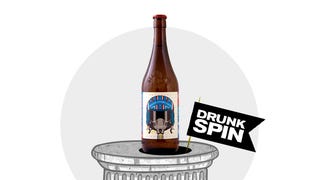 Yesterday a reader suggested that we pump out a "Canadian Beers, Ranked" post, which is a good idea long overdue. Part of the reason we haven't done one yet is good old classic American sloth, and the other part is that, regarding the macro category at least, I can't imagine ranking anything No. 1. Those wily and parsimonious Canadians tend not to ship much of the good stuff south of the border, and I'm in no huge hurry to spend a beaver's age sitting around trying to decide which skunked bottle of Molson This deserves to rank above which equally dubious sample of Labatt That.
Canada does many things well. I think they're a little too impressed with their clunky health care system, and I'm not certain that an ambitious American fat-ass couldn't have invented the concept of putting cheese and gravy on French fries, so maybe a bit less of the exported national identity could be based on poutine, but those quibbles aside: solid country. You should see them play hockey! And if you haven't got time for that, you should listen to them talk about seeing them play hockey! And they're also legitimately top-notch when it comes to such important matters as human rights, clean elections, and maple syrup.
But this isn't a maple-syrup blog (yet), and I've had a hard time coming up with Canadian beers worth featuring for a largely American readership. I trust that Canada has many wonderful little breweries, but I can't write about them any more than I can write about my beloved local Boston brew-by-night operations that 99 percent of you will never get to experience.
I bet a lot of you have been to Canada, though, or might sometime soon, and if you end up in Ontario, then I've got just the thing for you: Beau's All Natural Brewing Company in Vankleek Hill, a little village in the eastern part of the province. You probably know Vankleek Hill best for its status as the Gingerbread Capital of Ontario, but since 2006, it has also hosted an innovative, organic, family-owned beer-making operation that produces all manner of weird and wonderful offerings, including St. Luke's Verse Lavender Gruit, Lug-Tread Lagered Ale, and the outstanding 6.7-percent-alcohol-by-volume Mission Accomplished American IPA.
I like to think the Mission Accomplished name is a jab at George Bush's "wars are won by declaring you have won them" style of international diplomacy—the label features a starred-and-striped battle helmet/gas mask/Top Gun-ish sort of image—but regardless of the name's origin, the beer is absolutely first-rate.
It pours the usual orangey-gold, with a great fluffy white head that sticks around for longer than most. The blend of American Simcoe, Cascade, Citra, and Centennial hops, along with Rakau from New Zealand, produces lush, sweet aromas of pineapple, apricot, and nectarine; the taste has all that plus a lightly bread-y malt, a lot of grapefruit, and just enough bitter pine, which really shines on the long finish.
Someday soon I will toss out a disdainful, jokey ranking of all the shitty beers we dumb Amerucks have come to think of as iconically Canadian. That will be a richly deserved low blow, but let the record reflect that the first Canadian brewery featured on Drunkspin was the delightful Beau's All Natural.
---
This is Drunkspin Daily, the Concourse's adequate source for booze news, reviews, and bullshit. We'll be highlighting a beer a day in this space; please leave suggestions below.
Will Gordon loves life and tolerates dissent. He lives in Cambridge, Mass., and some of his closest friends have met Certified Cicerones. Find him on Twitter @WillGordonAgain. Image by Jim Cooke.
The Concourse is Deadspin's home for culture/food/whatever coverage. Follow us on Twitter.