Valencia, Spain, is a place of many good festivals. For example, every March they do this festival called Las Fallas where all the neighborhoods in the city construct these beautiful, elaborate, occasionally gigantic papier-mâché figures and scenes that fill most of whatever intersection or square or park in which they're built. They spend a couple weeks drinking and hurling firecrackers at each other, then, at the climax of the festival, they fuckin' torch those damn papier-mâché figures right where they stand, and they go up in these huge, terrifying blazes. It's the damn best.
Just outside of Valencia, in Buñol, they do the La Tomatina festival, where a bunch of crazy people hurl tomatoes at each other and create a huge fuggin' mess. It's always the last Wednesday of August.
Anyway, here are some photos of the crazy tomato people.
G/O Media may get a commission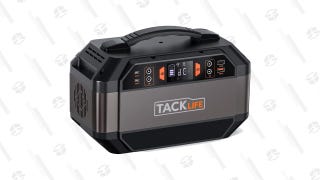 Tacklife Portable Solar Generator
Always a bittersweet moment, when the photos of the tomato loonies come out: it always coincides with the approach of autumn.