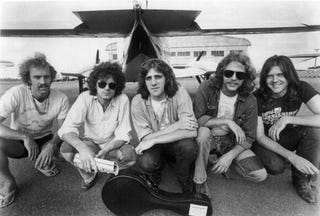 Last week I laid out my favorite Prince songs to fuck to. As seen below, this caught some Deadspin staffers by surprise. Probably because I generally write data stories here.
Drew's referring the fact that I unapologetically enjoy the Eagles, a fact that has likely cost me DUAN! privileges. But Drew's idea is a good one: I personally don't have a wife to relate to, but I am down for helping others. Even peachfuckers. So here, in all their glory, are the top six Eagles songs for One of Those Nights:
6. "I Can't Tell You Why"
5. "Peaceful Easy Feeling"
4. "Desperado"
3. "Take it Easy"
2. "Witchy Woman"
1. "Lyin' Eyes"
---
Photo by GAB Archive.