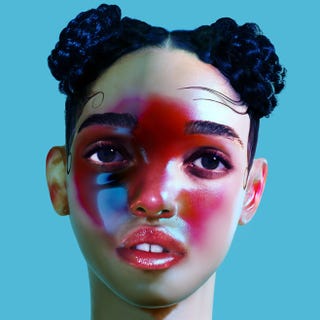 Have you seen Pina? It's a dazzling 2011 documentary—a dancer's tribute, really—to the pioneering contemporary German choreographer Pina Bausch, who died unexpectedly during the film's production. Other than Mia Michaels, who choreographed and judged the first five seasons of So You Think You Can Dance, it was the first time I'd seen dance performed professionally by people who looked "normal." (A 1984 New Yorker review of Bausch's "The Rite of Spring" took a harsher approach, describing the dancers as "little fat girls … who don't look like dancers.") I'm not just referring to body type, but age, complexion, demeanor. Look how utterly joyful everyone is in this clip of her piece "Seasons March." Pina was a breathtaking ode to Bausch's work, which was so groundbreaking because it proved that non-traditional dancers could do extraordinary things with movement.
Whereas young U.K. artist Tahliah Barnett looks like a dancer: compact, graceful, and elongated, from phalanges to sauropodal neck. As a choreography-minded R&B singer (catch her in videos for Jessie J and Taio Cruz), she performs under the name FKA twigs, on account of the way her joints crack sometimes when she moves. Her debut full-length, LP1, is streaming now and out next week on London's XL Recordings, a label full of clever, cutting-edge, and typographically moody artists (from SBTRKT to Jamie xx) adept at fusing R&B, pop, and British dance music; she shares a producer with Kanye West (Arca, who worked on four songs from 2012's Yeezus), but their music doesn't sound remotely similar.
Sometimes people liken her gauzy soprano to Aaliyah's, while others hear her high-pitched, almost whale-like trills and jump straight to Mariah. But her most apt analog might be Grimes, another singer who transmogrifies her girlish voice with triggers and layers of effects. With just a few EPs and a handful of arresting videos, Barnett has shown the conviction of St. Vincent's Annie Clark and the exquisite heartache of Frank Ocean, while certain more recent phrases and moments, like LP1 closer "Kicks," radiate the melodrama and eroticism of arguably the most famous-dancer-turned-pop-star ever: Madonna.
Barnett does indeed have a pretty voice—you can hear it at its most trembling and bleak on "Papi Pacify," from last year's EP2—but she spends a little too much time sighing her way through airless production on her big full-length debut. It's an odd technique for music often classified as R&B, since bluster is so endemic to the genre. The third verse on "Two Weeks," the album's first single, is an artful heap of breathing patterns: staccato, gasping, languid. Twigs says her dancing doesn't inform the music until long afterward—"It's the final checkpoint," she told Pitchfork; I'll make the music and have a little dance in the studio just to see if it feels good"—but the way that she sings here, using breath as a rhythmic tool, makes you suspect otherwise.
In a recent interview with the BBC's Zane Lowe, Barnett talks about training with other London dancers in the Trocadero Underground passage; her music, too, favors a certain subterranean bleakness, perhaps to distraction. Broken-down time signatures, vibrating basslines, and a whole heap of white noise make it sound like the dank underbelly of a declining city. There is a hard, mechanized edge to these 10 scraps of song. Producers Dev Hynes and Clams Casino synthesize imaginary field recordings—wheezes, pops, clunks, and shuffles—for "Hours," and elsewhere we hear the dull, minor-key thunk of alloys colliding, and volleys of cranking gears and hissing valves. Songs start, roll slowly to a near-stop, then pick back up again. Melodies are knotty and inert, unfurling intriguingly and then dissipating like vapor.
Beneath all this visceral, guttural scaffolding, Barnett's voice sounds frail— almost sad-girly—until you listen closer and hear the decisive, almost threatening edge to the way she utters the word "motherfucker" over the muffled kick drums of "Two Weeks," or calls herself out as a liar, almost joyfully, on the autobiographical "Video Girl." It's a brief respite of Pina-esque humor.
I brought up Pina, actually, because that was the last time I saw human movement choreographed so exaltingly before this recent run of FKA twigs videos. Even when Barnett is practically still, her gestures feel as intentional and fussed-over as the music itself. Like the way she allows a partner to grasp her body and the way her hands frame her face like a halo in the "Papi Pacify" video; or the controlled flailing and skyward-facing salutations that four miniature versions of her dance in the Queen of the Damned/"Remember the Time"-themed video for "Two Weeks."
LP1, beautiful as it is, doesn't gratify in the way last year's EP2 did (or, as my fellow critic Jessica Hopper puts it, all of its sensuality never gives in to climax). What's remarkable about it, though, is the scale of thought: the way Barnett takes the dancing-pop-star trope and uses it to do much more. Despite her insectile symmetry, small stature, and soft-spoken lisp, she is not frail or even whimsical—the way her one eye locks with the camera in the "Papi Pacify" clip belies something complex, erotic, and unknowable.
In fact, the only time I've ever seen her not return the camera's stare is while she's dancing during "tw-Ache," a non-album remix video that she choreographed and co-directed. Beginning in a squat, quads rippling, neck writhing, she moves into back bends, supine tricks, lifts, and one crazy sequence where she is edited mid-pull-up to look practically demonic. "I dance feelings like they're spoken," she sings in the empty spaces of LP1's centerpiece, "Pendulum." You don't need the videos to be moved by it, but like Pina's dancers, her body betrays a hidden emotionality buried beneath all that sonic rubble.
---
Anupa Mistry lives and writes in Toronto. She can dance if she wants to. She's on Twitter.
The Concourse is Deadspin's home for culture/food/whatever coverage. Follow us on Twitter:@DSconcourse.