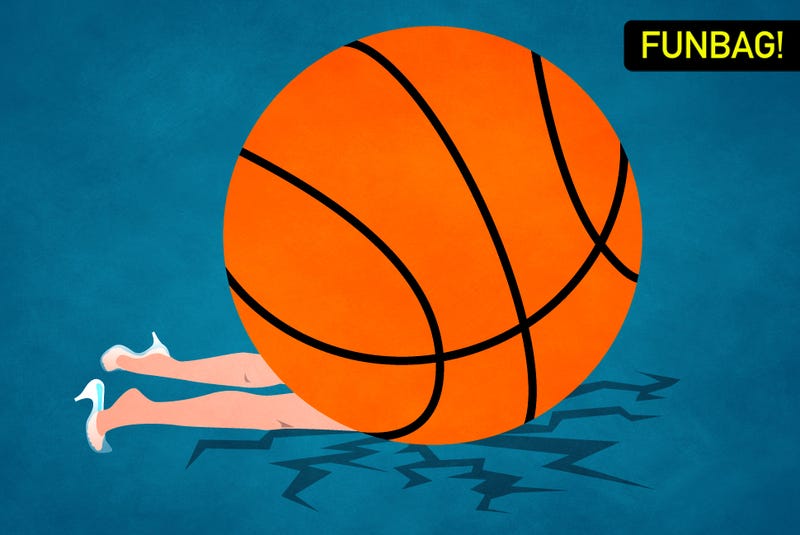 Time for your weekly edition of the Deadspin Funbag. Got something on your mind? Email the Funbag. Today, we're covering banana candy, fart holidays, found iPhones, and more.
I took my kids to an open gym at some gymnastics joint this weekend, the kind of place where you pay $8 for them to bounce around on trampolines and shit. Anyway, I noticed there was a fully grown adult couple playing around on the equipment as well. Turned out you could join this gym as a grownup (again, this is basically a youth-gymnastics training facility) and use the stuff during open hours, so here was this man (wearing black weightlifting gloves) and this woman jumping into foam pits and swinging from rope swings with 60 little kids around them. They were both at least 40 years old.
This is fucked up, right? I kept waiting for the couple to approach one of the kids and try to lure them into their sex dungeon. Fully grown adults shouldn't be allowed to join kid gyms, and I say that as a very judgmental, jealous person who really wants his own foam pit to leap into at home.
Your letters:
Drew (not me):
Can low-seeded yet still big-name schools still count for Cinderellas in the NCAA tournament? If, for instance, UConn, Duke, or Kentucky got placed at a #14 seed and ends up making it to the Final Four, will it still be considered a "Cinderella Story," or are those teams just expected to do well, regardless of their seeds?
The latter. If you're some traditional powerhouse having a relatively down year and then you pull a Sweet 16 run out of your ass, that is not a Cinderella story. No one's cockles are warmed by seeing Kentucky playing on the second weekend for the millionth time. It's like that one year when North Carolina made it to the Final Four as an 8 seed. That wasn't a miracle. That was just Carolina being annoying.
Your standard Cinderella team needs to be relatively unheralded. That is, it can't have made six different tourney runs in the past, like Gonzaga. It should be some "small" mid-major school that's basically a commuter diploma mill, and this should be your chance to learn all about it: where it's located, what kind of dipshits go to school there, etc. The NCAA tourney is basically an annual PR introduction service for random local universities: The goal is to get every college its turn in the spotlight eventually.
The proper Cinderella school has to have at least one standout player that the announcers cling to for dear life—usually a little white dude who shoots threes. (But not always—see Devin "Double D!" Davis and Harold "The Show" Arcineaux.) Any team that allows Jim Nantz to act as if he's calling a game for Hickory High will do the trick, even if your standard lower-tier basketball school is just as crooked and strange as any MEGABUCKS GLORYBOY BCS joint.
The term "Cinderella" really ought to be retired when it comes to college basketball. First of all, Cinderella herself wasn't that big of an underdog: She was a smoking-hot girl who only needed to meet a rich guy ONE TIME to get him slobbering all over her. Plus she could talk to rabbits and birds and shit. She was basically a superhero. None of the teams you see playing in the tourney represent any kind of Horatio Alger tale. These are schools that made a deliberate decision to invest in big-time college basketball to increase awareness and jack up alumni donations. It's not that the coaches and players don't bust their asses (they do), but there's no wonderful moral lesson to learn from it. It's just an investment paying off. We should call them Napoleon stories or something.
Luke:
People met some really grisly ends in the Indiana Jones movies. Would you rather have your face melted off as you saw the Ark of the Covenant, or age a millennia in 30 seconds after choosing your Holy Grail poorly? What was the worst way someone died in the series? (NOT COUNTING THE FOURTH MOVIE IT WAS TERRIBLE SHIA LEBOUF DIEDIEDIE)
It's funny that you refuse to include the last Indiana Jones movie, because that one features a dude being eaten alive by giant ants, and that is horrifying, even if those giant ants were the result of shoddy CGI rendering. FUN FACT: I'm currently reading this book, which says that during the Spanish-American War, Filipino rebels once buried an American soldier up to his neck, then propped his mouth open with a stick and left a trail of sugar in front of it so that a mass of ants would crawl inside the soldier's body and eat him from the inside out. So… don't go pissing off Filipino rebels.
Anyway, I'm biased due to childhood trauma, but nothing is worse than staring into the Ark, seeing some kind of unholy terror you can't even describe, and then having your head melt off your body. That just strikes me as unpleasant. HOWEVER, we should probably rank the Indiana Jones deaths, just to be certain:
Face melts
The giant ant thing
Mola Ram tears your heart out, shows it to you
Head explodes
Chopped up by plane propeller
Drink from wrong grail
Impaled on closing spiked gate
Impaled on flaming pigeon kebab
Falling down bottomless chasm just as you're about to reach the Cup of Christ
Shot by Indy after showing off your coolest scimitar moves
That last one is really just death by embarrassment.
Cameron:
What is the longest that something has sat on the stairs to go upstairs but not been taken upstairs? I swear I have a coat on my stairs that's been there a month.
Decades, easily. If you're a hoarder, there are likely multiple things on your staircase that have been there forever. If you live alone and are extremely lazy, there's no one to compel you (like a spouse) to clean up your shit and make your home look presentable.
There comes a point in every homeowner's existence when it's time to accept that certain things will never be finished. Where you realize, Oh, so it will just be like this forever. That might mean a certain item never gets put away, or that a certain painting never gets hung, or that the cereal boxes will never have a good place to go other than the top of the fridge, or that the little crack near the ceiling will never get repainted. Whatever remains unfinished is now finished. It takes a particular fastidiousness (some might say lunacy) to achieve a house or an apartment where everything is in its exact right place.
This is why shit like the Williams Sonoma catalog and back issues of Bon Appetit are so annoying. They always feature pristine homes where people are eating some kind of fancy Sunday brunch while sitting at a wooden table that they put out on the fucking lawn, like they live inside a Celebrex ad. Oh, I just whipped up this country terrine and roast leg of lamb marinated in homemade almond milk. It's easier than you might think! Honestly, it gets tiresome. It's 2014. The economy is shit, and the average person is strapped for money and time, and will usually end up eating franks and beans out of the can while standing by a scratched-up kitchen counter. I don't need all this aspirational shit.