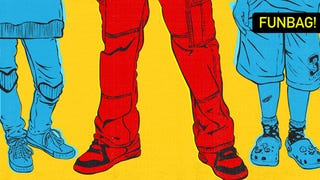 Time for your weekly edition of the Deadspin Funbag. Got something on your mind? Email the Funbag. Today, we're covering headphone farts, dog brains, professional button mashing, and more.
Before we get to the Funbag, Craggs wanted me to do a cattle call for audio and/or video of your local nutjob coach screaming at players. So if your indoor equestrian coach is chewing you out for hours at a time, and you had the moxie to take a video of said rant, send it on in. We won't yell at you. We're nice.
Now, your letters:
Dam:
My son just finished kindergarten. Where we live in NJ, the cutoff date is September 30th. His birthday is late August, so we knew he would be one of the youngest in his grade. What we didn't realize is that any parent that has kids born in the summertime seems to know to hold their child back (or "redshirt" them) so that they switch from being potentially the youngest in their class to the oldest. So my boy now goes to school with kids that are 13/14/15 months older than him (which gives the others an apparent physical and intellectual advantage). Should I have redshirted him? Have I screwed him for life?
Growing up, I was a full year younger than pretty much all of my classmates in school. And lemme tell you: It sucked. Age differences mean nothing when you're an adult. But when you're a kid, someone who is a year older than you may as well be 20 years older. That's how wide the gulf can feel. And it really sucks at milestone ages like 16 and 21, when all of your classmates can drive and drink and drive drunk, and you still gotta wait a year. Even if no one else gives a shit, you'll still feel like they're holding it against you. "Oh, Christ, we gotta give Drew a ride again? Fuck that asshole."
Anyway, redshirting became a big thing after Malcolm Gladwell wrote Outliers and noted that older kids on the hockey team did better than younger kids on the hockey team. So then all the crazy hockey parents decided to have Little Gordie repeat kindergarten 15 times. Really builds your confidence. It will not shock you to learn that there many studies on thism and they all conflict because science is annoying. It could be that my youth as a student hurt my confidence. Or it could be that it made me GRITTY AND SCRAPPY and determined to overthrow my older peers. It could be that begging for rides and being the only asshole who can't go to the bar made me the cowardly blogging nerd I am today. No one really knows for sure. My sister was a year old for her grade, so even though we were three years apart in age, we were just one year apart in school. Neither of us seems to have suffered for it.