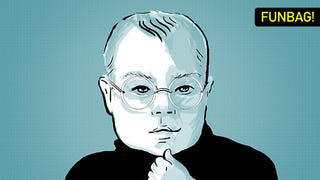 Time for your weekly edition of the Deadspin Funbag. Got something on your mind? Email the Funbag. Today, we're covering pointless airline rules, broken legs, meeting Fred Smoot, and more.
Your letters:
James:
Why is every kid I've ever seen so good with technology? I once saw a fucking two-year-old crying in a grocery store, and all his dad did was grab his iPhone from his pocket and give it to him. Kid immediately starts tapping away with no care in the world.
It's not that the kids are good with technology … it's that the technology is so good that even someone as stupid as a child could use it. It has to be designed that way, otherwise the device ends up being mishandled, unused, or broken outright. I am a grown adult, and I have crashed my computer roughly 50,000 times in my life. I have downloaded shit from Latvian mob cyberspiders. I have typed with bacon grease on my hands. I have spent years and years and years not realizing you can change cases in Microsoft Word by pressing Shift+F3. Gadgets need to be protected from my stupidity, which is why Apple designed an iPad that even someone in diapers can figure out.
The more sinister explanation, of course, is that these screens were also designed to hook children before they've even learned to speak. Ever try taking away an iPad from a child? They will latch onto it like a fucking alligator. For all the horseshit sermonizing Steve Jobs did about democratizing technology and making the world a better place, it's not exactly a heartwarming sight to see a child completely silenced by an iPad. Children are supposed to be loud and boisterous and spazz out all over the joint. They have energy to burn, and parking them in front of a screen just muzzles that energy. Once the screen goes off, it's like opening a shaken beer can.