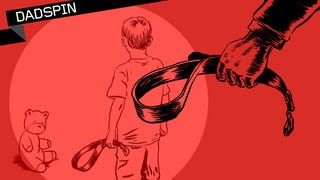 There's an old episode of What's Happening!! where Roger fucks up, and his mom decides to beat his ass (this is actually the plot of every episode of What's Happening!!). So his mom asks Rerun for his belt, only Rerun is 300-plus pounds, so when he takes out his belt, it's like eight feet long. And Roger's mom guffaws and cries out, "Oh, Rerun! I wanna whip him, not hang him!" And the whole studio audience goes crazy with laughter.
It's a weird thing, to wanna beat your kid. Kids are small and helpless, and are your own flesh and blood. You'd think the LAST person on earth to hit a child would be that child's own parent, and yet here we are. Beating kids is so common that it's practically a comedic mainstay at this point, from Eddie Murphy's mom throwing a shoe at him to Bill Cosby talking about his dad's fearsome belt. There was a recent episode of Anthony Bourdain: Parts Unknown set in L.A.'s Koreatown, and all these Korean chefs were laughing about how their parents used to punish them by putting them in stress positions for hours on end: standing and holding books until their arms gave out, etc. Torture, essentially. The chefs were all giggling at the memories, like veterans telling war stories. The beatings were a shared heritage among them.
There is an imaginary line between corporal punishment and abuse, and the story of Adrian Peterson beating the shit out of his kid with a tree branch demonstrates the insane variance with where Americans see that line. Some people applauded Peterson for this …
… while others, of course, think he belongs in a jail cell. Peterson said his dad used to beat him with an electrical cord, so he considered his own parenting methods to be HUMANE by comparison, which is insane. But that's what happens in a culture of beating. Beating is a tradition that parents hand down to children, who then hand it down (with great force) to their own children, until an entire family tree of abuse has sprung forth. Given the way abuse can spread, it's a wonder any child makes it out of childhood unscathed. And since it's so common, people will twist their minds around pretty much any excuse to justify this cycle. My parents beat me, and I turned out fine!, etc. The idea of abuse gets buried under comedic euphemisms like "whoopin'." HAHA HIS DAD GAVE HIM A WHOOPIN'. Hilarious.
Now, this is the part where I point out that study after study after study has proven that corporal punishment—even a light spanking—does not work. At all. Corporal punishment makes kids sullen, violent, and angry. I know this because I have dabbled in corporal punishment with my own children, particularly my oldest kid. (Poor first children are always the beta kids: The kids parents fuck up with the most before applying better techniques to their younger siblings.) I have tried spanking the kid, and giving the kid a light smack on the head, and threatening the kid. My dad spanked me once or twice as a child. That's it. I don't even remember it, really. And yet I've probably tried more ways of physically correcting my child than he ever did. And the reason I tried all of these methods is because I am a failure.