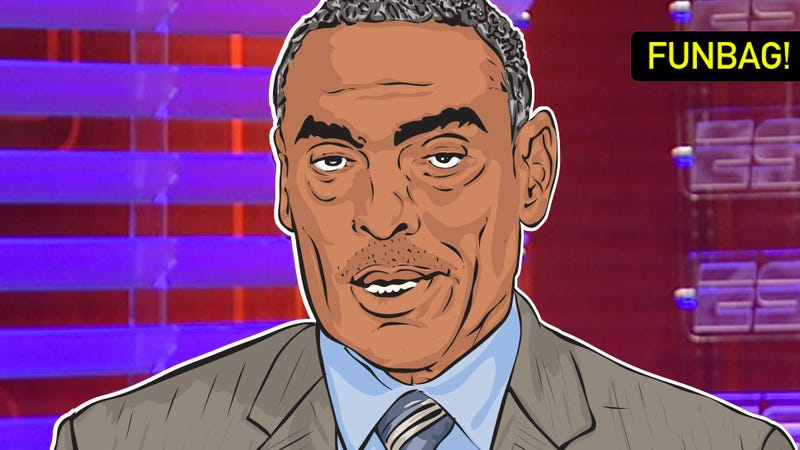 Time for your weekly edition of the Deadspin Funbag. Got something on your mind? Email the Funbag. Today, we're covering unemployed hockey players, meat chunks, satanism, and more.
Time for your letters:
Jayson:
Who's the most overused ESPN analyst (any sport)? My choice is Herm Edwards: The guy has a losing record as a head coach, never won a Super Bowl, and was an average player, yet ESPN asks him questions about football all the time like he's a football prophet.
Not only do they ask him about football, but they happily bring on "Coach" to offer up his wisdom on LeBron and Donald Sterling and other non-NFL issues that he's somehow even less qualified to discuss. If a nuclear bomb got dropped on New York, they would trot out Herm Edwards to offer his fucking take. I assume Edwards has a year-round contract and ESPN needs to squeeze as much airtime out of him as possible so that they don't have to pay for another analyst in the stable. This is how the four-letter works: They will simply push and push and push someone like Herm on you to give him the illusion of authority. Like if you see him enough, you will experience a kind of televised Stockholm Syndrome where every stupid thing Herm says begins to make sense.
It's the job of all ESPN personalities to prop each other up. You hear it all the time on Mike & Mike when they're like, "On the Subway fresh-take hotline with us right now is Herm Edwards, who had such an interesting thought about the Pakistani airport hostage situation…." They confer authority upon one another, and you're supposed to just sit there and buy it. But what usually happens is that these assholes all convince only each other that they have wisdom because they've been mandated to kiss each other's asses for so long. Hence, Coach Herm. Hence, Mark Schlereth. Hence, Merril Hoge. They're all the same analyst. Only the tacky suit changes. Anyway, I say Edwards and Stephen A. and Schlereth are all tied for the most overused. Nothing will make you change the channel faster than Stephen A. showing up onscreen with his "thoughtful" face. Gravely nodding, just dying to spew useless bullshit.
Matt:
If you somehow destroyed the NHL and all foreign hockey leagues in a way that meant all professional hockey players now had to find regular day jobs, what would be the industry with the greatest influx of employees on day one? Let's go ahead and also destroy/burn all of the income that these players have already received, so that for argument's sake these players are unemployed with very little in the way of financial stability. What is the breakdown? Does the number of lumberjacks understandably skyrocket?
We also have to eradicate the existence of youth HUCKEY as well so that none of these guys are allowed to just slide into a gig coaching your local Mite squad. Since we all know that hockey players are unbreakable wildebeests who are constitutionally and morally superior to all other athletes, it behooves these ex-players to go into a similarly dangerous line of work. That means not only lumberjacking, but Alaskan king-crab fishing as well. And ice road trucking. And working on an oil rig, only to be asked by the government to go into space to break apart a killer asteroid. Shit like that. They're not going into some PUSSY occupation like selling insurance or being a judge in a Federal circuit court. These are real men, dammit.
Just kidding. They'd all become gym teachers.
William:
My friends are I are debating which professional sports team in each of the four major leagues is the least hated. Defined simply by which team has the fewest persons who specifically dislike/hate them.
The Columbus Blue Jackets. Here's a study that ranked them as the least popular franchise in all of hockey, which is itself the least popular of all four major sports. In this instance, "least popular" does not mean you're actively hated, but are instead easily ignored. Now I'm sure there's one diehard HUCKEY fan out there who despises the Blue Jackets because they're a natural Metropolitan division rival of the Carolina Hurricanes. But in general, I can't imagine the average sports fan giving enough of a shit to actively hate the Blue Jackets. Unless you despise Ohio State (justified!) and have expanded that hatred to anything that comes out of the Columbus metropolitan area (sure, why not). But even then, that's just Ohio State hate in different clothing. The number of people who hate the Blue Jackets specifically can't be that high. They're a relative new team and they haven't won anything.