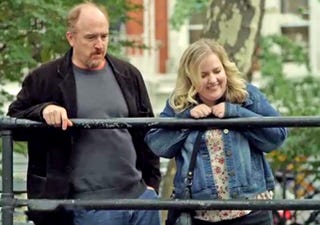 As you are probably aware by now, "BBW" means "big beautiful woman." I know: patronizing, annoying to say out loud (bee-bee-dubbleyew), sometimes confused with Bath and Body Works. But nonetheless, this is the three-letter PIN that you would Google (or Craigslist, or OKCupid) in order to find a fat woman. Why would you want to find a fat woman, you ask? Well, according to this infamous PornMD infograph, to masturbate.
You can get lost in that thing for hours (Peru!), but for now, just note that "bbw" makes the Top 10 porn searches for 16 of the 50 states, beating out "lesbian" and teen in Mississippi (#4), and slipping just ahead of "wife" in Wyoming (#6)—Christ, the symbolism. As goes porn, so goes actual, real-world romance: This isn't men subconsciously (or consciously!) lusting after a fat partner who's "really funny" or being open to one because they're "not shallow." This is some of the only on-the-books data confirming what many fat women already know: There are hetero men who actively seek out fat women, because that is what turns them on.
As you are perhaps unaware, a "BBW bash" is an event where some of these guys travel to meet fat women—to date just as much as fuck. The biggest and longest-running bash is a weeklong summer fete in (obviously) Las Vegas; I was unable to secure a room at the Tuscany hotel this July, because all the rooms sold out in April. In 2012, the bash's 15th year, I knew the Tuscany sold out with over 1,300 attendees. But I didn't know it happened that fast. I booked a room at the "overflow" hotel, the Platinum next door.
So I brought that information, along with 15 years of being primarily attracted to fat women and navigating the fat dating community, to bear when I watched last night's episode of Louie, in which actress Sarah Baker (The Campaign, Go On, the upcoming Tammy alongside Melissa McCarthy) gives Louis C.K's eponymous single dad an impassioned, to-my-thin-white-male-ears very on-point-sounding speech about how bad fat women have it in the romantic world, which confusingly ends with her asking only that someone hold her hand in public. Eventually, Louie does, and they walk away with him telling her a fat joke.
In any other comedian's hands, this is rotten stuff on paper. But breaking down these kinds of walls—letting a fat woman berate him on his own sitcom as he shrinks quietly—is why some consider Louis C.K. the voice of this generation. He's great at turning that voice off and letting others steal his show.
Baker mostly does. Cast as what The A.V. Club (but first, my friend Kate!) long ago termed the "Manic Pixie Dream Fat Girl," she plays a comedy club waitress who approaches Louie after his set, makes witty conversation, and wastes no time asking him out. He rebuffs her ("I'm tired") with a scared expression that might convince you he thinks she's not within 50 pounds of his own weight, which is at least 100 out of his actual dating range. She asks him out again, and he says no, which she takes in stride ("Cool, just being a little persistent because I'm into you"), before a jerky customer who's not even hers demands her attention, and Louie's pal Jim Norton offers up a "yuck" as she walks away.