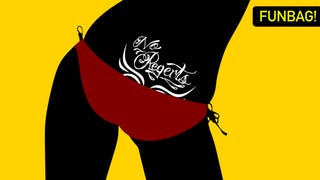 Time for your weekly edition of the Deadspin Funbag. Got something on your mind? Email the Funbag. Today, we're covering lost jackets, serial killing, neck strength, and more.
Before we get to the Funbag, a couple of things. First off, to commemorate the paperback release ofSomeone Could Get Hurt, I'm gonna do a reading at the Dodge City bar here in D.C. on Wednesday night. We'll start around 8:30 p.m, and I promise not to read for too long, because no one ever likes the reading part. After that, drinking. If you want a book signed, I strongly recommend bringing one, because there may not be books on sale at the bar.
One other thing: I did that whole How to Suck post last week and forgot one last crucial suck point: If you're having a conversation with someone and you really want to suck, be sure to talk exclusively about yourself and NEVER ask the other person how they're doing. I am consistently amazed at how many motherfuckers out there treat the other person in a conversation like a fucking TV camera. I'll talk to someone for, like, an hour, and then I'll walk away and be like, Wait, that asshole didn't ask me anything about me! I'm not even sure he knew my name. It's like an illness. So if you're droning on and on about your job to some poor bastard at a cocktail party, take one minute to pause and actually listen to another human being. No one wants to hear your tiresome horseshit.