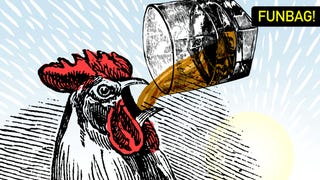 Time for your weekly edition of the Deadspin Funbag. Got something on your mind? Email the Funbag. Today, we're covering farting, soccer, smoking, boxing lions, and more.
I missed one of the World Cup games the other day due to family obligations, so I caught up on highlights that night when ESPN did a cut-and-paste re-broadcast of game highlights on ESPN FC, with an anchor introducing the clips like it was an episode of Masterpiece Theater. "When we last left Brazil and Chile, they were engaged in a life-or-death struggle for control of the South American continent and its vast magnesium ore deposits."
After the intro, they just took the best parts of the game, displayed a graphic whenever they skipped ahead, and let the game announcers do the rest. This is what every episode of SportsCenter should be. I don't need the anchors talking over everything like I'm a blind person who can only digest sports through audible broadcasting. Just show the relevant clips and then wrap that shit up with a tidy graphic. I know that rights issues from other networks make this unfeasible, but I'd gladly pay three dollars for Silent SportsCenter. ESPN FC was awesome. I want that applied to all sports highlights, instead of some fucking anchor testing out recycled movie lines and then asking big dumb Mark May what he thought of that big run while I am watching said big run. That is the worst. Just the sports part, please. AND WHY DOESN'T MTV SHOW VIDEOS ANYMORE, MAN?!
Your letters:
Mike:
What is the definitive list of venues/situations in which drinking at 8 a.m. is acceptable and not a qualification for AA?
Here's my list:
You pulled an all-nighter and are still out drinking. In this case, your morning still counts as last night, which absolves you from shame and/or guilt. Also, you're probably in Ibiza or something. Enjoy sucking on a glowstick and then collapsing on a beach at 11 a.m.
You are watching a major international sporting event that is taking place in a weird time zone. I think there is a very specific group of Americans looking forward to the Russian World Cup specifically because they like getting away with waking up at 5 a.m. to drink.
You are on a plane and are a nervous flyer. I don't really buy this, but I've heard enough from morning airplane drinkers that I'm willing to play along. Still, the average lady I see chugging chardonnay in the back of an airplane at 8 a.m. sure LOOKS like an alcoholic.
You're in a foreign country where drinking in the morning is fairly normal, and besides, you haven't really adjusted to the time zone yet or something. Welcome to Ireland!
You're a college student. You get a free pass on alcoholism so long as you are at a college and surrounded by 20,000 other binge drinkers. Hard to sort out the normal binge drinkers from the problem binge drinkers in that scenario. At my old college, they had "doghead" parties early in the morning that involved getting shitfaced right away and swallowing live goldfish. No, I don't understand why this happened, either. Sometimes people get drunk and allow their natural stomach acids to slowly suffocate an animal to death, and you go with it.
You're on vacation. This is your time away! THERE ARE NO RULES. If you want to get drunk early and eat cold chicken fingers for breakfast, that's your right as a goddamn American. When I went on the Kid Rock cruise, you better believe the entire boat started drinking the second they woke up. You gotta maximize the good times even if it means ending up having an AWFUL time because you had no clue how to pace yourself.
Someone important to you died. Got that call about your dad at 8 a.m.? No one's gonna take you to task for busting out the Scotch. No way.
If you do it occasionally and pick your spots, morning drinking can be a blast. You wake up, have a beer, feel naughty about having a beer, and then you feel GREAT for the rest of the day. It can happen if you're in the kind of place where everyone is into the flow of constant drinking, and it feels fun and carefree instead of dark and lonely and horrible.
Matt:
If you could recruit one U.S. pro athlete from each of the four major leagues and magically convert them to futbol players, who are the four? I'd pick Patrick Kane (jitterbug striker like Neymar), LeSean McCoy and Andrew McCutchen to control the midfield, and LeBron to be a wall as a central back.
Why not just make LeBron the goalkeeper? This isn't meant as any disrespect to Tim Howard, who's really good. But I'd take LeBron or some other NBA player and make him Howard's understudy, to master the craft of blocking a goal with your face. After that, I would take Billy Hamilton, because he can do this, and then NHL player Carl Hagelin (won the fastest-skater competition this year, which is a thing), and then either McCoy or Jamaal Charles from the NFL. Taking a running back makes sense because they are good at running! I would make like the U back in the '80s and put a premium on speed, because SPEED KILLS.