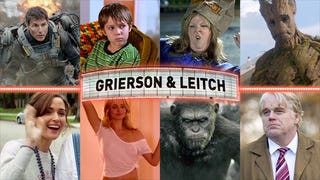 If you ask the bean-counters, this was a disappointing summer: Almost every major sequel underperformed (Transformers: Age of Extinction, The Expendables 3, and The Amazing Spider-Man 2 were all the lowest-grossing entries in their respective series), and there were some truly ugly flops, most notably for Seth MacFarlane and Adam Sandler. But all told, as far as summers go, this was a good one: Seven of the season's top 10 grossing films were substantial critical hits, and the biggest film of all (and maybe the biggest of the whole year) was Guardians of the Galaxy, a weird little retro-goof that showed how desperate audiences are for something even a little different.
We're ready for fall—and the Toronto Film Festival—the unofficial kickoff of Prestige Season—but first, we thought we'd take a look back at one of the more fascinating summers in memory.
Leitch
Best Big Movie: They never did quite figure out how to market a zanily entertaining video-game popcorn movie starring Tom Cruise—they had such a hard time with it that they actually changed the title for the DVD release—but there wasn't a more fun, inventive, propulsive summer movie than Edge of Tomorrow. Cruise is as light and likable as he's been in years, and Emily Blunt is in desperate need of an action franchise of her own. This is smart, large-scale Hollywood moviemaking at its absolute zenith. No wonder ticket-buyers were so confused.