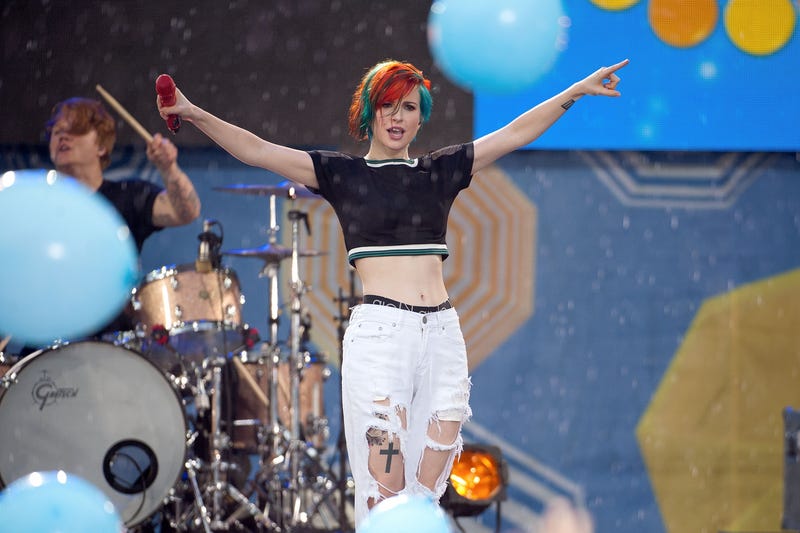 It's a pleasantly sweaty June night at the bucolic, Live Nation-owned Xfinity Center in Mansfield, Mass., and Hayley Williams looks like she's ready for a fight. The lead singer of Paramore is sporting the kind of high-waisted shorts, knee braces, and white high-tops you might associate with a sparring boxer. But though she concedes that a good chunk of her pop-punk band's catalog has a bit of an angry tinge to it, Williams's effervescent patter and electric charisma tonight betray a more benevolent aim: She's a congregation leader, and the crowd has gathered here tonight to scream its heads off along with sneakily empowering tracks like the bruised-not-beaten "That's What You Get" and the steadfast "Proof."
Not to mention the latest single off Paramore, the band's fourth album and probably the best pop full-length of 2013. The catchy, defiant "Ain't It Fun" is the band's churchiest hit yet; it closed out the band's 75-minute set and was undoubtedly the highlight, even when preceded by a number of confetti cannons, a track from a Twilight soundtrack, and a sing-along led by a pair of sisters plucked from the audience.
The song derives its fun from the way it masters a ton of pop traditions: It opens with a kicky keyboard hook that doubles as a piece of brain Velcro, and the withering lyrics that follow ("You're not the big fish in the pond anymore / You are what they're feeding on") put it squarely in the pantheon of Great Pop Kiss-Offs. But those lyrics are counterbalanced by a precisely metered cheeriness that brings to mind Dolly Parton's "9 to 5." Williams is a Tennessee native, and she shares with Dolly a knack for delivering hard-knocks lessons with an endearing smile, a flair for killer one-liners, and a formidable set of pipes.
"Ain't It Fun" also, quite crucially, has a choir.
I watched Paramore perform "Ain't It Fun" live late last year at the Boston installment of Jingle Ball, the Clear Channel-sponsored holiday-concert series where big pop names are limited to only their most recognizable hits. It wouldn't be released as a proper single for another couple of months, but on that snowy December night, the crowd at the less-bucolic TD Garden was immediately drawn to the bridge, which recalls both Madonna's "Like a Prayer" and a particularly finger-waggy newspaper op-ed about millennials. "Don't go cryin' to your mama / 'Cause you're on your own in the real world," that choir sings, as Williams alternates between joining the chant and countering it with her own wails.