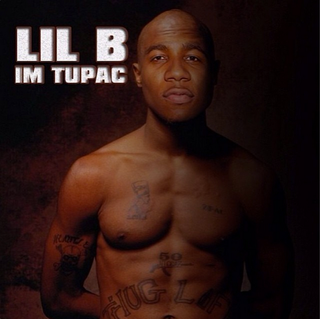 Every Lil B mixtape is an event: a multi-stage, multimedia extravaganza that in all its quirkiness, interactivity, and downright craziness exemplifies why the Based God is the most fascinating artist currently doing it.
It starts with a new video, which teases a forthcoming new tape in the YouTube description, lyrics, title card, or some combination of the three. Then comes the Twitter campaign, wherein the Based God asks his female followers to tweet a link to the video, nearly each of which he then retweets, along with the standard fawning responses. Such are the benefits of following 830,000 people: One of the great pleasures of Twitter is happening upon a completely random account and seeing that Lil B got there first.
For a few days, the tweet/RT cycle continues, complemented by little based koans (each one signed "- Lil B") and various pictures or photoshopped images comprising what can only be described as the Based God Meme Industry. A few minutes on his Tumblr or his Instagram should clue you in to Based World's sense of humor. (In the event you are over the age of 35, "based" is Lil B's general life ethos that preaches staying true to yourself, and spreading love and positivity. Read this for a more thorough examination.)
Then comes a second video, or maybe just a leaked song—either way, it'll show up on YouTube, which is one of Lil B's primary innovations. Quickly abandoning his early home on MySpace, he was among the first artists to realize the site's power as the primary music-delivery service for young people: Instead of tolerating Pandora or Spotify or sketchy MP3 sites, kids would instead open a spare browser tab and trawl YouTube for hours on end, in search of both old obsessions and new ones.
That's how Justin Bieber got his start; ditto Kitty (neé Pryde) and Kreayshawn, two rappers who owe explicit debts to Lil B. Much of the Based God's music only exists on YouTube, in fact, often in the guise of full-blown (and usually self-directed) music videos. Videos like "B.O.R. (Birth of Rap)" typify Lil B's cinematic sensibilities: We follow him on a little Based Field Trip for one, the location, filter, shaky camera, half-interested lip-syncing, and ornate dissolves and wipes all adding to a mis-en-scène of mystery and carefully crafted indifference.
This goes on for awhile: the tweets, the videos, the memes, the anticipation. But eventually, the mixtape has to actually come out. There are no release dates in Based World, and while Lil B's output is less frequent than his 2010 peak of 198 songs spread over 14 different projects, he still puts out an absurd number of songs every year: In the past 12 months, he's only put out four tapes, though one, 05 Fuck Em, had 101 songs. By comparison, when Hoop Life, the Based God's exploration of the basketball life, finally arrived on the first of June, it clocked in at a mere two hours and 33 tracks. But don't worry: There's still plenty of Based God scripture to pore over.
---
On one hand, Hoop Life is a typical Lil B mixtape, from the celebrity songs ("Katy Perry," "Mack Maine") to the ignorant, crass, and often great cooking songs (overall highlight "Don't Go Outside") to the positive and explicitly #based ideological songs ("Scouts Report," "Real Based").
Then there's the Lil-B-can-really-rap song. "Only Time I Slow Down" has a beat that wouldn't sound out of place on an early-aughts Jay Z album, with a flow that does Jigga proud: The Based God's not really talking about anything other than how nice he is on the mic, but he does so with a lyrical dexterity his detractors refuse to acknowledge he even has. Like LeBron, no matter how many times Lil B defies the lazy narrative about his terrible rapping, the Skip Baylesses of the world keep moving the goalposts: "The only time I slow down is when a nigga be laughing / I don't judge a lot of things, just promoting my passion / Hip-hop make a nigga scream like he on acid / And I'm fly like NASA, I'm a python, bastards."
"Lyrics vs. sonics" is a debate as old as hip-hop itself, and Lil B is decidedly in the latter category, which immediately puts him at odds with rap's self-elected intelligentsia. Rappers more concerned with how they sound than what they say are rarely revered by the "lyrical miracle" crowd, unless you're Old Dirty Bastard or Lil Wayne.
Lil B has yet to earn that kind of acclaim, in part because it's so easy to dismiss him as a gimmick. His vocal experimentation is less pronounced now than it was back in his MySpace Based Freestyle phase, when he really was just droning into the mic, piling reverb after distortion after filter over his free-associated lyrics, tossing the result online, and starting over: Wash, rinse, repeat.
But even now that he occasionally hangs actual fleshed-out raps atop those skeletal, nonsensical flows, his music is still meant to enthrall the ear, not the mind. It's why Lil B can address such divergent topics as spreading love around the world or how he looks like the Jesus or how computers are ruining our generation's ability to relate to each other or how his rap sheet makes him Bill Bellamy, and it's all great. You don't listen because of the subject matter; you listen because it sounds fucking awesome.
So it goes with Hoop Life, which often uses basketball imagery as just another source of fuel to rev the traditional Lil B motor: "At the Freethrow," for example, is lyrically almost entirely about basketball, but pretty much the exact same song could've appeared on 2012's Obama BasedGod as "At the West Wing" or something, only with references to the Oval Office instead of Oakland's Mosswood Park.
Other tracks, however, uphold the narrative promise of "Gotta Make the NBA" and explore the basketball universe from three different perspectives: a young NBA hopeful desperate to escape the poverty around him, a current successful pro ballplayer, and a coach.