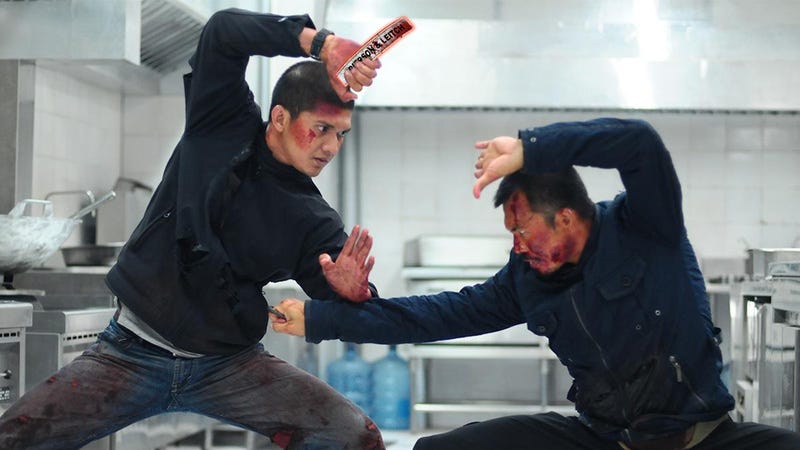 Violence is such a constant in movies that we rarely appreciate when it's done well. The smallest hint of sexual content or nudity lands a film an R or a dreaded NC-17, but summer action blockbusters can inundate us with shootouts, explosions, car crashes, and off-screen deaths, and as long as there's no blood, they'll still get an all-access PG-13 rating. But that rampant, neutered mayhem desensitizes us to its shock, its impact. It just becomes this stuff that we see and never think about, so no wonder action scenes tend to be dished out with such careless abandon and edited together without much coherence or elegance.
The Raid 2 has other things going for it, but at its most elemental level, it's an action-thriller that turns violence into art. Even better than its predecessor, 2011's The Raid: Redemption, the sequel wants to wow us with its bloodshed and pummeling assault. In this movie, people get hit by fists, feet, doors, bats, baseballs, metal poles, swords, hammers, knives, cars, and water jugs. There's also gunplay, but not a lot: These characters mostly do battle through intimate face-offs. People who turn their nose up at movies with such high body counts are going to tsk-tsk this one, too, calling it numbing, excessive, or irresponsible. The Raid 2 may be morally reprehensible, but it's also smart and made with care—and unlike a lot of action flicks, there's a sense of weight and consequence to it all. Better this movie make a billion dollars than the next Transformers.
Where The Raid: Redemption was a martial-arts Die Hard—mostly confined to a building overrun with a crime lord's well-armed henchmen—The Raid 2 goes for an expansive, crime-thriller tone. The action still dominates, but now it's buttressed by a story that's a little less video-game simple. The new movie picks up right where the last one ended, as rookie cop Rama (Iko Uwais) recovers from everything he endured in Redemption to learn that his criminal brother Andi (Donny Alamsyah) has been murdered by a ruthless gangster named Bejo (Alex Abbad). Plus, Rama's superiors want him to go undercover to infiltrate a crime syndicate ruled by taciturn, levelheaded boss Bangun (Tio Pakusodewo) and his spoiled, temperamental son Uco (Arifin Putra).
Rama's destiny puts him on a collision course not just with Uco, but also Bejo—who wants to disrupt the carefully orchestrated peace between Jakarta's crime families—and you can be sure that collision course will result in plenty of casualties and broken body parts. As with the first film, The Raid 2 was written and directed by Gareth Evans, a Welsh-born filmmaker who became interested in Indonesian martial arts (also known as pencak silat) several years ago. There was plenty of this balletic, hand-to-hand combat in Redemption—fight scenes were ferocious but also graceful, like a gruesome dance between combatants—but the first film was also exhausting, repetitive to the point of tedium.