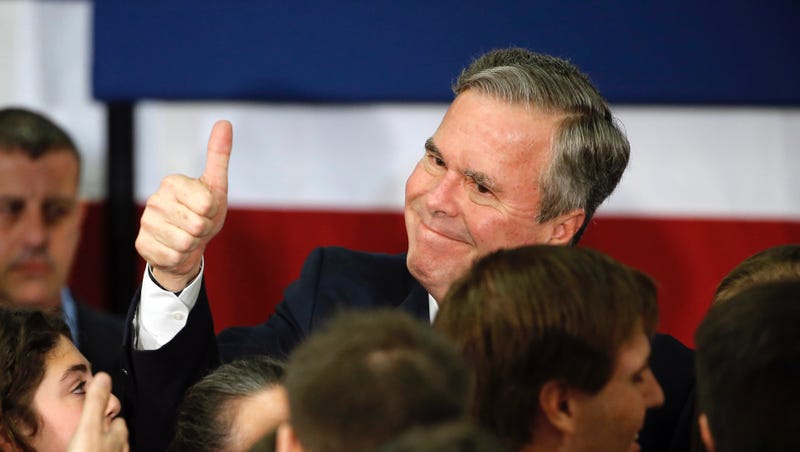 Jeb Bush finally—fucking finally—dropped out of the Republican primary campaign over the weekend, by my reckoning at least a few months later than observable reality said he should. Nobody wanted him to be president. Possibly he himself did not really want to be president, so much as he wanted not to be the Bush who failed to become president. In any event, whatever the fuck this weird psychodrama was, it's over. Or the televised part of it is.

(I suppose the wised-up analysis probably goes something like this: Jeb's total failure as a presidential candidate is an embarrassment to the Bush family, and maybe the last time for a long time that a Bush will seek national office, but probably we should not delight too much in it, because in truth this neither occasions nor reflects any significant or permanent humbling for them. Their political power remains vast, as does their ability to withdraw incalculable unearned wealth from the world; we're all suckers if we think they've lost in any meaningful way. Fine. Well, no, not fine, but, you know. Sure. Yes. Probably that is true.)
(On the other hand: Ha ha ha ha ha ha ha ha ha ha ha eat it you motherfuckers. The Bush family makes the Manson Family look like the Von Trapp Family Singers. Elizabeth Báthory is reputed to have bathed herself in blood to preserve her youth; the Bushes bathed the Middle East in blood to preserve their wealth, and in a just world they'd be bricked into their fucking houses like she was and left to die, but we will have to make due with schadenfreude. Fuck the Bushes, and fuck soft, dull-eyed patrician mama's-boy Jeb. They can all eat glass.)
A side effect of Donald Trump's rise is that it cast Jeb as the poor well-meaning doofus who was just too soft-hearted for the pit-fight atmosphere of this campaign. Up to a point, this is fine: Jeb is indeed a big soggy Saltine cracker, and he looked every bit of it trying to trade blows on a debate stage with a professional performer like Trump. A curious thing happened, though, while the media watched Trump solidify himself as the frontrunner: They read moderate politics into Jeb's mild personal disposition.
It makes a kind of superficial sense. Trump's bombast and bluster are indeed expressions of a kind of conservatism, after all—or a strain of it, an East Coast hustler take on unrestrained John Wayne white-man cocksureness, the confidence to describe the world however the hell one wants it to be and the privilege of knowing nobody can stop you. And so it seems to follow that his opponents' manners and mannerisms likewise are politics, and therefore that if Trump is the bullying frontrunner both personally and politically, then Jeb—poor, polite, mayo-ass Jeb, who seemed on the verge of fainting from the vapors the one time he mustered himself to issue what passes for a burn on a stage full of anti-intellectual nitwits—must have been a bastion of relative sanity and reason and moderation in the field. That if Trump thrives in debates because he does not give a fuck about anything beyond his own ambitions, then Jeb foundered in them because he is too decent and moral to match Trump's irresponsibility and cruelty.