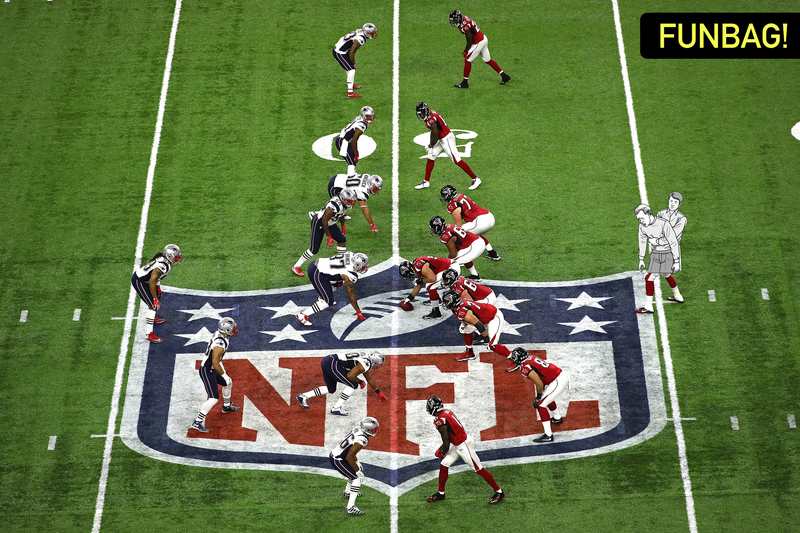 Time for your weekly edition of the Deadspin Funbag. Got something on your mind? Email the Funbag. Today, we're covering bad suburbs, the Super Bowl, biscuits, baby socks, and more.

Your letters:
Steven:
What happens to coaches in the fourth quarter against the Patriots? Why do they shit their pants and make decisions that make no sense?
Because of the LEGENDARY POWAH OF WAHLBERG NATION. In all seriousness though, I remember back when Tiger was ripping off Major wins all over the place. A lot of times, he wasn't necessarily playing his best golf, but the field would wilt around him. Golfers openly talked about his mystique, and how daunting it was to win a tournament knowing Tiger was out there, ready to crush them. He's just a broken-down, horny old guy now. But back then? THE BOGEYMAN.
I think that can happen in team sports as well. The Falcons were playing in only their second Super Bowl (their first with that roster and coaching staff), and they were going up against Tom Brady at his seventh rodeo. Every Super Bowl that the Patriots play in gives them a distinct advantage for the NEXT Super Bowl they play in, and I have to think that occasionally crosses the mind of whoever they're playing. (This is why Eli Manning was their Kryptonite; he's too stupid to feel pressure.) It's only human. The Falcons went up big, and then slumped, and then the Patriots seized upon an opening. And suddenly it's like, "Oh shit, we can't fuck up now because they certainly won't."
Now, that's a gross generalization, especially given that we're talking about world-class athletes who are far, far tougher mentally than some random dipshit fan like me. Just as certain NERDY STAT NERDS have debunked the idea of clutch performances, haughty dipshit Gregggggggggggggggg Easterbrook once suggested that choking is also an illusion, and that teams blow leads because of standard variations in gameplay (and because the winning team is, you know, good).
But ol' Gregggggggggg is wrong. Here's a great old rumor about Marty Schottenheimer succumbing to the mystique of these very same Patriots a decade ago:
"Goddamnit, I'm so hyped up someone needs to get over here and calm me down." So the special teams coach comes over to him and talks to him and Marty says, "I was pulling into the parking lot today and I decided we were going to be aggressive. People don't think I can be aggressive but I decided driving in that we were going to be." And the ST coach says, "Coach. You can't let the outside stuff get to you."
And remember when Bill Belichick himself went for it on his own 28 against the Colts way back when? That was because he knew Peyton Manning was on the other team and could score in a heartbeat! That's cold-blooded analysis with a dash of mystique thrown in. Coaches will always defend their play-calling by describing it as situational, but I think one of the reasons Kyle Shanahan went into brain freeze and kept passing the ball on Sunday night was because he knew, somewhere deep down, that 28 points weren't gonna be enough. Tom Brady always gets his, and it's not crazy to think opponents know that, and even fear it a little.