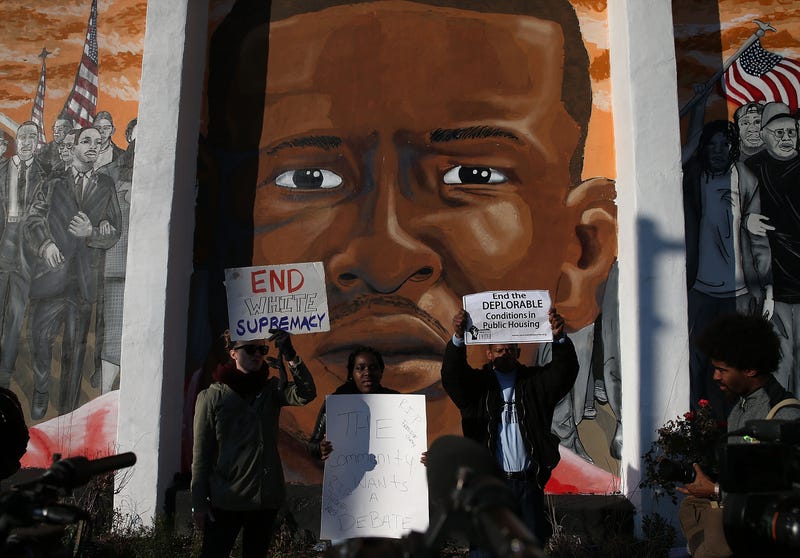 Wednesday night, just minutes before the deadline, the 30-year-old civil rights activist DeRay Mckesson filed to run for mayor of his hometown of Baltimore, and, in coordination with the The Baltimore Sun, Washington Post, and The New York Times, announced his campaign on Medium. The announcement, which had been rumored for a few months, comes at a vital time for the broader Black Lives Matter movement of which McKesson has become the most visible face.
While it started as a Facebook hashtag that gained currency after neighborhood watchman George Zimmerman was acquitted for shooting unarmed teen Trayvon Martin to death in Sanford, Fla. in Feb. 2013, Black Lives Matter—a plea not that only black lives matter, or that black lives matter more, but simply that black lives matter, too—has become a rallying cry to protest near-daily fatal police interactions with African-Americans. It exploded when unarmed teen Michael Brown was shot to death in Ferguson, Mo. a year and a half later. Brown's death led to protests in Ferguson; those protests were met with stunning force from police; and the televised police response compelled Mckesson to drive to the St. Louis suburb before quitting his school administration job in Minneapolis, Mn. and fully committing to protesting himself. With every publicized instance of a black life taken by a police officer around the country, Black Lives Matter's popularity and influence grew, and as one of its most prolific chroniclers and then its biggest media star, Mckesson's popularity and influence grew alongside. In the last two weeks alone, he has appeared on The Daily Show with Trevor Noah to talk about Black Lives Matter and in Stephen Colbert's chair on The Late Show to talk about white privilege.
Even as Mckesson's star rises, though, there are fewer protests than before, fewer Black Lives Matter protesters at those protests, and fewer media outlets covering them. A year and a half after Brown's death and following winter weather, media saturation, fatigue, and the public becoming increasingly desensitized to watching people being shot to death by cops on video, there's been a decline in Black Lives Matter's influence. In November 2014, two Cleveland police officers drove up to a 12-year-old black boy named Tamir Rice playing in a park with a toy gun, and shot him dead at close range. The execution was captured on video, but in Dec. 2015, a grand jury did not indict the officers. Protests in response were subdued. Last month, Flint, Mich. made news when the nation caught wind that the state had been poisoning its impoverished, majority black population with contaminated water for over a year and a half. There were a couple of sparse protests in Lansing, but not much else.

The momentum Black Lives Matter was able to gather and harness has dissipated, and it certainly feels like the movement is dying. One person with close ties to Black Lives Matter and Mckesson recently took it even further, telling me simply, "Movement is dead."
If the Black Lives Matter public protest movement is dying or dead, that doesn't mean it had no successes, but to identify them, you have to identify its goals. This is difficult, because Black Lives Matter is a broad rallying cry but also the name of a discrete movement created and led by three women—Patrisse Cullors, Opal Tometi, and Alicia Garza—in Oakland after Martin's death. Shortly thereafter, they created an organization with the same name and chapters all over the country. Mckesson, an avatar of the broader movement, works independently of the organization and operates as the face of a smaller faction called We The Protesters. This has led to lots of infighting, largely built around clashing egos as well as disagreements on goals and how to best accomplish them.