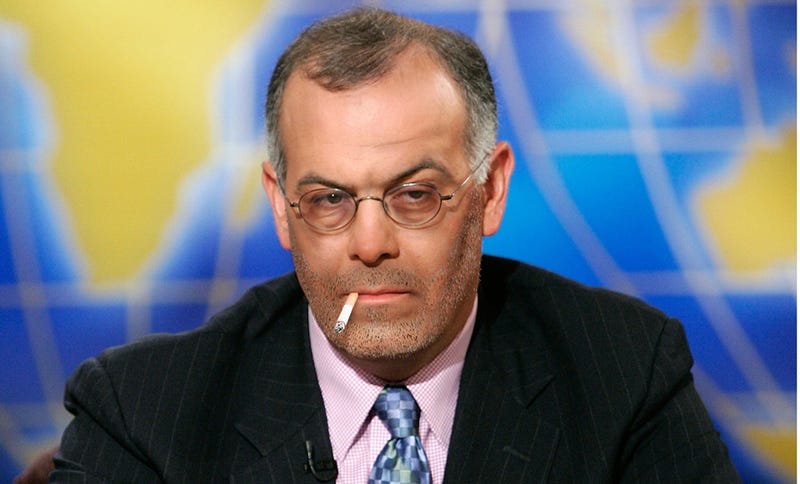 I am worried about David Brooks.
I've been a pretty regular reader of the New York Times columnist since before he even came to the Times, going all the way back to his seminal 2000 book Bobos in Paradise: The New Upper Class and How They Got There, which revealed, to the astonishment of various residents of the East Coast media world's upper crust, that the rich white people of the Clinton years were different from previous generations of rich white people, because they used their money to buy elite refrigerators instead of jewel-encrusted top hats.
In the years since, he has been a reliable producer of out-of-touch, tissue-thin pronouncements on the perils of our secularized, technologized 21st century lives, virtually all of which rightly can be interpreted as passive-aggressive nostalgia for what Family Circus comics told him "outdoors" might have been like when he was a kid. You could just about set your calendar by it: In a month of Brooks, you'd get the call to begin or continue a war with Iraq or Iran, the grasping attempt to paint some cretinous Senator or presidential hopeful as the intellectual heir to Edmund Burke, and then, at last, the decline-and-fall column. You'd see a headline like "The Slow Virtues" or "The Hollow Century" or "Why the Teens Are Despicable," and you'd know ol' Dave's coffee shop was out of plain croissants a week ago and the barista had a nose-ring and he'd decided he'd witnessed the death of the Western moral tradition.
I think I got too comfortable automatically deploying this familiar way of understanding his occasional life-musings. I think that is why I missed a change in Brooks's work. This change started some time ago, and subtly at first; I didn't fully recognize it until very recently. Once I detected it, I went back and read through some of his older columns. Re-examined with fresh eyes, they are pretty alarming.
At some point around the new year, this powdered coffee creamer man abandoned his career-long mission of guessing at what the lives of common Americans are like, in favor of a new and more urgent mission, like an Antarctic explorer stalked by privation and death turning away from the far-off pole to race for the nearest hospitable bay, and with no less desperation. The bay is Us. We are It. He is trying to reach us before despair reaches him.
David Brooks is telling us something dark and sad—about loneliness and the search for connection; about social desolation and sexual frustration and sadness. Something deeply personal, about discovering, too late in life, that accomplishment and position and thinkfluence are no ameliorative for the rejection of your gross old-man wiener by cute millennials. Something not about what priorities he guesses Whole Foods Uncles will take into the voting booth in 2016, but about himself.
Oh God, I don't think we have been listening.
As near as I can tell, Brooks first abandoned the survey equipment and turned his face toward the equator with the publication of this column. Which, I mean, right there in the headline is the tentative outstretched hand of a man who has lost his moorings in the world. "What do we mean when we use the word meaning?" he asks.
You might guess that the nature of meaning would be too weighty a subject for illuminating in an 800-word newspaper column, but that is not the important thing here. The important thing, here, is the professional thinkfluencer—rounding into senescence, stung by the discovery that the inflation rate on smug, uninformed well-actually-ing in this newfound internet economy has rendered him a cultural pauper, coming to terms with the reality that the reputational spoils of a career spent inventing pseudo-sociological voter categories are as nothing to the perky youths—is using his newspaper column to wrestle with the possibility that he will never feel good about his life.
Happiness is about enjoying the present; meaning is about dedicating oneself to the future. Happiness is about receiving; meaningfulness is about giving. Happiness is about upbeat moods and nice experiences. People leading meaningful lives experience a deeper sense of satisfaction.

In this way, meaning is an uplifting state of consciousness. It's what you feel when you're serving things beyond self.
Here David hints at his misery as best he can. "I am miserable," he says. "I do not have 'upbeat moods' or 'nice experiences' and my wiener has cobwebs on it. But maybe I suffer on behalf of posterity? Maybe I have meaningfulness?"
It's a soothing notion, for a moment, but David cannot rest on it; it crumbles under the weight of his gloom and self-doubt.
There are no criteria to determine what kind of meaningfulness is higher. There's no practical manual that would help guide each of us as we move from shallower forms of service to deeper ones. There is no hierarchy of values that would help us select, from among all the things we might do, that activity which is highest and best to do.

Because it's based solely on emotion, it's fleeting. When the sensations of meaningful go away then the cause that once aroused them gets dropped, too. Ennui floods in. Personal crisis follows. There's no reliable ground.
This has gone to a very dark place! "My life has meaning, because I suffer dick webs for the future—but meaning itself is trash, because it does not prove I am better than Paul Krugman. I feel unmoored and unmotivated. I am in personal crisis. Please help me."
We really dropped the ball here, guys.
When David Brooks's marriage collapsed, reportedly, around the end of 2013, it should have freed him to enjoy the spoils of pundit-class celebrity. He would be Out There, America's most eligible thinkfluencer, thinkfluencing a perky publishing assistant onto his elbow for mutually rewarding committed relationship action and/or love!