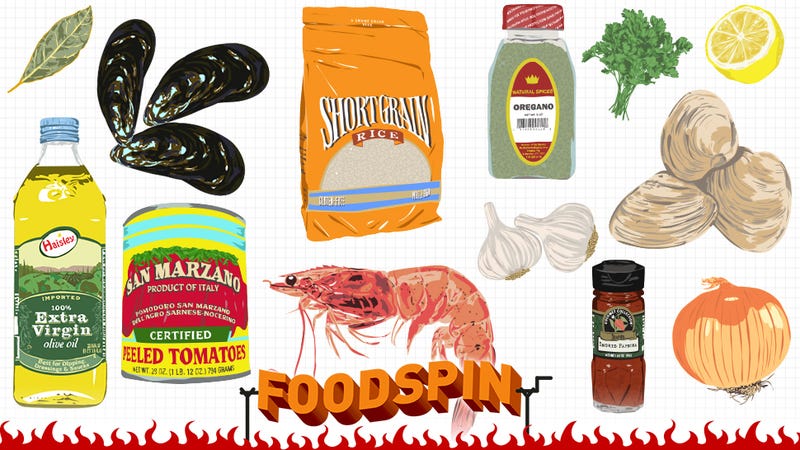 Picture the scene! An early summer evening in Valencia, Spain, in the mid-19th century; an aromatic open fire of orange and pine branches, and pine cones, crackles happily in an orchard clearing. A wide, flat pan, enormous, two feet across, sits suspended over the flames. The men, their olde-thymey pants hitched to their fuggin' armpits, bustle hither and yon, assembling the ingredients of a feast. For they are making paella, and this is the job of men, as they learned it from their fathers.
Lo! Here comes young Raimundo, at 6 years old already eager to participate in this masculine rite. "Papa!" he squeals, skipping and jumping in excitement as he approaches: "Papa! I have brought some clams! May I put them in the paella?"
"Ah my son," says Papa, hoisting the tyke onto his knee, stern but kindly. "The clam, she is delicious. But, she does not belong in the paella, for she is not part of an authentic Valencian seafood paella." He tousles the moppet's hair affectionately.
Raimundo is confused. He looks up at Papa, his innocent young face screwed up in a frown. "Fuck you talkin' about, pops? 'Paella' means 'pan.' This shit is a casserole. Lighten up and put some friggin' clams in it, ya dingus." Then he hook-shots the clams over his shoulder into the pan and swats Papa's horchada onto the ground to round out the own.
Listen. Tradition is great. It gives us all types of cool stuff. On the other hand, the main meat ingredient of traditional paella was water vole, a large amphibious rodent, so maybe let's all just step back and get some perspective here, because, Jesus, "large amphibious rodent," no fucking way. Since parsing from among the constituent parts of tradition for those that appeal to us and discarding the (amphibious rodent) parts that horrify and/or nauseate us is pretty much the only alternative to not having paella at all—and not having paella at all is a fate worse than pretty much everything except for having to watch The Magus—we're just not gonna worry about tradition so much.
So! Clams. Yes. And also mussels and shrimp. But not water vole, and not Spanish chorizo, which is just too damn hard to find in most places. Making paella is always kind of a ludicrous thing to do (it's complicated, it takes a while, you have to buy saffron, which means plunking down like 17 bucks for about a thimbleful of flower parts). Keep it as reasonable as you can, or you'll never do it.
Hey, speaking of which. Let's do it.
---
The first thing to do is acquire cooking liquid. If you want to make a (relatively) quick seafood broth by simmering some shrimp heads and shells for, oh, a half hour or so in water with chopped onion, minced garlic, and a couple of bay leaves, that'll be lovely, and will impart some richer seafoodiness to your eventual paella. (Set the denuded shrimp aside; you'll add 'em to the paella later.) On the other hand, if you want to buy a few cans of low-sodium chicken broth, hell, that will be OK, too. Or, another thing to do, if you're not going the seafood-broth route, is to grab a couple of cans of low-sodium chicken broth, plus a can or bottle of clam liqueur (this'll be by the canned tuna in your local supermarket).
The thing not to do is to just use some regular-ass tap water to make your paella, if you can avoid it. For all the sexy shellfish that will go into it, this paella and all others are really about the rice; do this rice the favor of making it with ingredients that will impart flavor to it. (And, no, before you ask, tap water with a packet of instant ramen flavor-dirt stirred into it will not suffice here, I am very sorry to report.)
You'll need, oh, somewhere between four and six cups of cooking liquid. Exactly how much will be determined by the next way that your paella either observes or offends tradition: your choice of rice. Acquire some short-grain rice. A note on that.
Traditionally, paella is made with bomba, a super-short-grain rice from Spain. Bomba is great for paella: It absorbs a ton of liquid (three times its volume, in fact, meaning that if you use two cups of bomba rice for your paella, you will need six cups of cooking liquid), which means that it can be made incredibly flavorful by the contents of that cooking liquid—but also, wonderfully, bomba holds its shape during cooking. So long as you don't stir it too much as it cooks, it doesn't get sticky and mushy like many short-grain rice varieties. This yields a result that engages you both with flavor and texture. It's wonderful!
It's also grown only in Spain; finding it, if you do not live in Spain, is a big ol' pain in the ass. It's available online, or in that specialty gourmet grocer where the clerk sees you buying bomba rice, deduces that you are making paella, then sees that you are also buying clams, deduces that you are making inauthentic non-traditional paella, and furtively notifies security.
If you can't find bomba rice, you can also use Italy's famous arborio rice, familiar to you from the time you made risotto. Like bomba, arborio rice does a great job of holding its shape during cooking, compared with other short-grain rices; unlike bomba, though, it can be found in most big supermarkets that have a selection of varieties of rice, or one of those "International" aisles with, like, all the same shit you can find everywhere else in the store, only more expensive and with accent symbols all over everything.