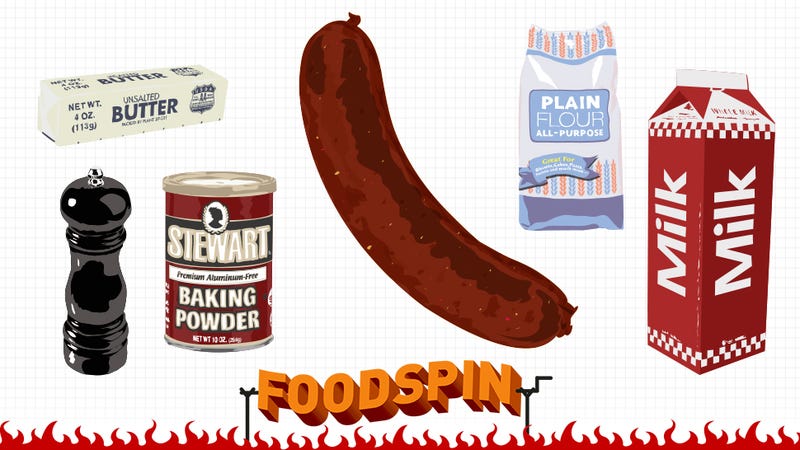 Sausage gravy is deeply, deeply disreputable food. In its typical presentation, slopped across biscuits in some charmingly run-down roadside diner with Patsy Cline playing on the jukebox, it is, in essence, flour on flour, dressed up as actual sustenance by the inclusion of token quantities of butter and pork—which, you may have noticed, are not exactly kale and lima beans—and not-at-all-token quantities of salt and milkfat, which are also not kale and lima beans.
When the best that can be said of a foodstuff's nutritional virtue is that, hey, rendered pork fat—one of its main ingredients—has, like, what, amino acids or some shit, probably, or maybe riboflavin, I ain't no dietitian, get offa my case, I can eat what I want, maybe I don't want to live to see 55, didja ever consider that, we can probably all agree that it ought not to be a staple food of the non-suicidal. So no, don't, like, add it to your regular breakfast rotation, or at least be aware that now that I have advised you against doing that, that pretty much clears up my liability in this matter.
But, sure: Make sausage gravy this one time, and then maybe whip it up once or twice a year for a big Sunday breakfast or something, because damn, it's really good. Rich and salty and good. And cheap! It's mostly flour and low-grade meat products, after all, and while this certainly is bad news for your person, it's good news for your wallet. You can have sausage gravy, and then put the leftover money you otherwise would have spent on a breakfast that contained actual life-sustaining nutriment into, say, a brand-new treadmill. And/or a coronary angiogram. Worst-case scenario, maybe a slightly fancier tombstone.
First, though, let's make some sausage gravy.
---
To begin, acquire sausage. A pound of it should do. Decide for yourself what type of sausage you'd like to use: The stuff labeled "breakfast sausage" is perfectly fine, and so is Italian, provided it's the hot variety, though note also that Mexican chorizo is outrageously good in sausage gravy. The only requirements are that your sausage must be uncooked and uncased—if you can only find the cased stuff, you'll need to remove the casing with a knife. Go ahead and do that. Man, is it gross.
Next, set your sausage aside for a bit and preheat your oven to 425 degrees, because you are making your own goddamn biscuits. Yes, you are.
Listen. Here is the thing. There's a reason why the biscuit exists, and why people eat it so often, and that reason is that the biscuit is delicious and perfect and oh man, the biscuit. But there is also a subsidiary reason why the biscuit exists and is so popular, and that reason is that, as bready-type things go, the biscuit is absurdly easy to make, and make well, which is to say well enough to cause your lips to curl over your teeth and attempt to follow the biscuit down your throat, just to be near it. And then you have to pull your lips back out of your mouth with your fingers and tape them to your face, which maybe is not exactly the sexiest look ever, but that's OK, because your stomach is full of homemade biscuits, and that is for damn sure a hell of a lot more important than whether or not they will let you board "the bus," if that even is its real name.
And, since the biscuit is so easy to make (really: You kinda just mix a bunch of stuff in a bowl, fold it over a few times on your counter, and then cook it), it's an easy thing to remove from the list of foodstuffs you must depend upon The Faceless, Merciless All-Owning Mega-Corporation to provide for you. Really. You can make your own biscuits. And then you can shake them, defiantly, at the entrance of an Apple Store, for some reason.
So. Make biscuit dough. There are many ways to make biscuit dough; you practiced one of them back when you made peach cobbler (unless of course you heretofore failed to make peach cobbler, in which case go to hell), and that's the basic formulation you'll deploy here, too. In a bowl, whisk together two cups of flour, a tablespoon of baking powder, a pinch of sugar, and two much heartier pinches of salt; cut a cold stick of unsalted butter into small chunks and kinda pinch and press and knead these into the dry ingredients until the mixture is crumbly and lumpy, but doesn't contain any wads of butter larger than, say, a pearl; gently stir in, oh, maybe a bit less than a cup of warm (not hot) water or milk (but really: milk) until the contents of the bowl just hang together as a dough. There. A dough.