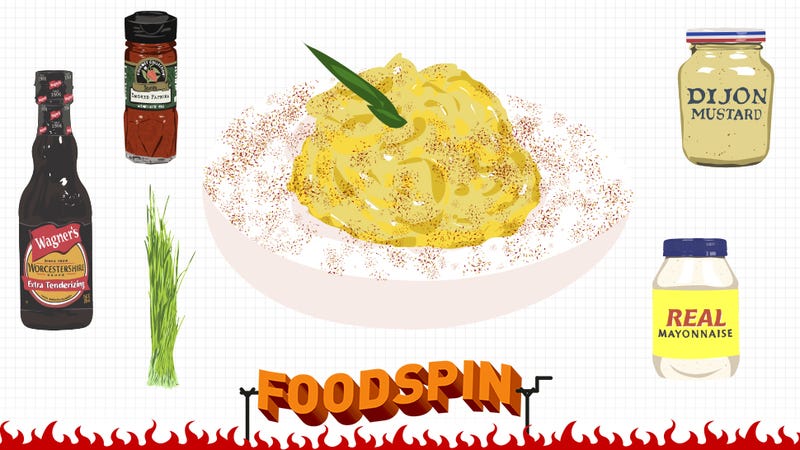 Somebody always brings deviled eggs to the cookout or potluck or NA meeting, and it's never you, and that person is everyone's favorite, because deviled eggs are just the best.
And then you sit there and watch your friggin' three-bean salad (or whatever)—how you slaved over it! how you toiled!—dry up and turn shitty, because everyone is having deviled eggs, and that is all anybody wants, and you curse the Deviled Egg-Bringer from the pit of your spurned and crusty heart, not least because you yourself are ignoring the bean salad in favor of the delicious, rich, indulgent deviled eggs, a traitor against yourself, and it is their fault.
Deviled eggs aren't exactly the most reputable foodstuff—they're not serving them at Chez Wherever-The-Hell, that is—but the funny thing about them is that, basically, they're a respectable version of egg salad (or egg salad is, in essence, pulverized deviled eggs). This is to say that (basically) they're egg salad, only slightly more annoying to produce, and without bread. Well, hell, you know how to make egg salad! And, dammit, you know how not to put bread on things! So this time, you can be the Deviled Egg-Bringer, Upstager of Lesser Side Dishes, Scourge of the Bean Salad! And then, how you will laugh. How you will cackle in triumph.
Most of the work, here, is just hard-boiling some eggs. If you've done that (and you have, yes?), then most of this will seem familiar and easy, and even the parts that aren't familiar are preposterously easy.