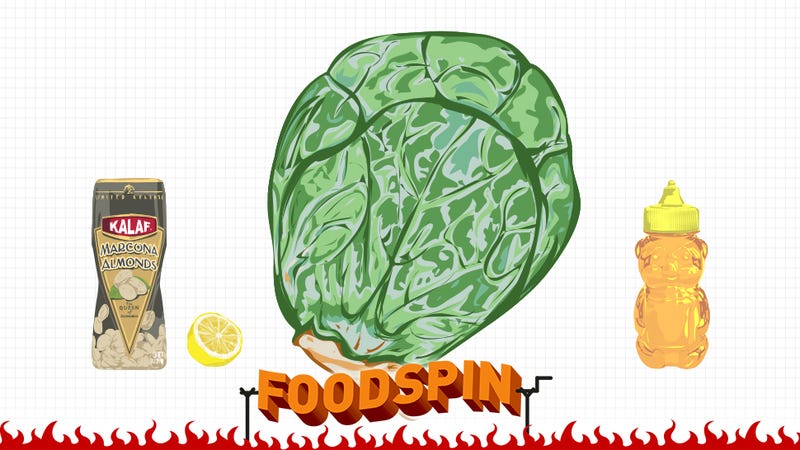 You think of Brussels sprouts and you think of misery. When you were a kid, some damn do-gooder grownup nuked a frozen bag of them in the microwave , and scooped a bunch of them onto your plate next to your delicious SpaghettiOs, and laid some bullshit on you about how eating them would make you grow up big and strong like Batman, and "Don't you want to be like Batman?" and "Batman always eats his Brussels sprouts!" and "But they're so good for you!" and "They only get grosser the longer you stare at them" and "I guess you can just sit here until you're ready to eat your Brussels sprouts" and "Jesus, I told myself I would never be this kind of parent, this is the same shit they used to pull on me" and "[sobbing]" and "I'm sorry, I'm so sorry, you don't have to eat them, please don't grow up to be like me, just be happy instead."
After all that, you could hardly be blamed for never really liking Brussels sprouts. This is a tragic situation, both for you and for Brussels sprouts. For you, because holy cow, you could have bought two houses by now with the money you've spent on therapy, and for Brussels sprouts, because, when treated (i.e. prepared and presented) like things that are good and not just good-for-you, they're lovely.
The trouble is in how they're prepared. Because our American culture comes to us from the Puritans, who feared pleasure and distrusted joy, it divides all foodstuffs into two groups: Evil Sinful Indulgences on the one hand, and Virtuous Healthful Chores on the other. Accordingly, we prepare most of our edible vegetation—the healthful stuff—by cooking it with water vapor—the tablespoon of tap-water your sad grownup added to the frozen shit before microwaving it back in the day—which accomplishes virtually nothing except rendering the fibrous matter marginally chewable. Look at me all disciplined and upstanding!, we think to ourselves, gnawing away at some bland green horror. I care more about friggin' manganese or whatever than I do about enjoying my brief time in this beautiful world! This attitude exemplifies health and is not sad at all.
This is a bullshit way to do things. Vegetation—Brussels sprouts, even!—can be delicious, satisfying, exciting food. Want proof? Fry them. No, really: Fry some Brussels sprouts! Now! Let's fry some Brussels sprouts.
---
The first step is to heat up a bunch of oil in a pot on your stove. This must be a sturdy oil that will not burst into flames as soon as sunlight hits it (peanut and corn oil are splendid for this), and you'll need quite a lot of it. However big your pot is, you'll want the oil to be a good four or five or six inches deep, in there. And now, for a moment of large-pot advocacy.
Here's the thing: Your oil will need to be extremely hot for this procedure; significantly hotter, even, than if you were deep-frying, say, a soft-shell crab or a fish fillet. Anything less than scary fires-of-hell heat, and your Brussels sprouts will return from their bath mushy, sodden with oil, and thoroughly gross. Now, that scary heat is fairly easy to accomplish: You just kinda put the pot of oil over a burner and turn it on and wait a while, and then it's the correct temperature, and then it bursts into flames and incinerates your neighborhood. In fact, that heat is easier to accomplish in a smaller pot than in a larger one, since a smaller pot will contain less oil and therefore take less time to heat up.