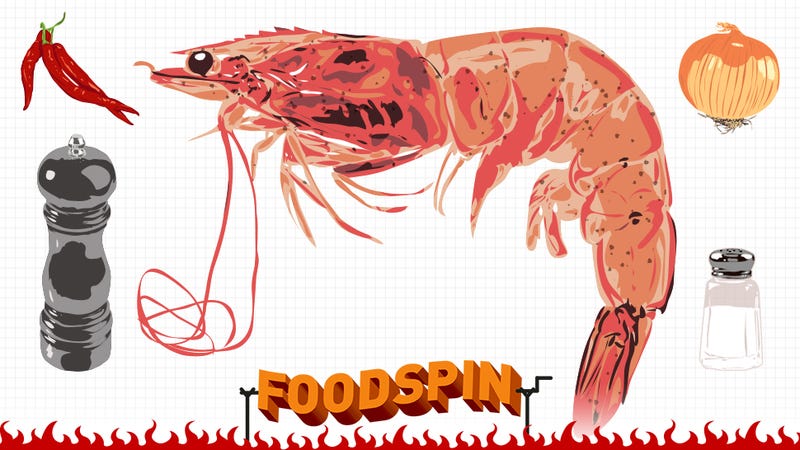 Generally speaking, we like shrimp. Your local supermarket testifies to this: Multiple sizes of shrimp of various provenance on display at the seafood counter; shrimp prepared and flash-frozen in wild variety (OK, maybe not wild variety, but anyway Captain Gorton breads them at least a couple of different ways) over in the refrigerated section; in the ready-to-eat area of the store, the inevitable sad plastic tray of flabby cocktail shrimp for the oh-shit-I-totally-forgot-about-the-company-potluck crowd. Shrimp on shrimp on shrimp, around the corner from shrimp. And: None of them with their heads.
There are of course other reasons why we don't eat a lot of shrimp heads—we don't like getting chitin in our teeth; generally speaking, we just kinda don't eat many heads in western culture; we have been instructed by our nation's Puritan founders to hate and fear things that are good; et cetera—but the primary one is, I mean, holy shit, have you fucking looked at a shrimp's head? Does it particularly look like a thing to eat?
No. It does not look like a thing to eat. It looks like a thing to swat with a broom. It looks like a thing to spray with a black can of poison. It looks like a—
Never mind. The job here is to get you to try to eat these things. Well, goddammit, are they food or are they fucking beauty pageant contestants? A chicken thigh's not exactly the Mona Lisa, either, but we eat the hell out of those, unless we are self-denying nitwits, because what matters is that they taste incredible.