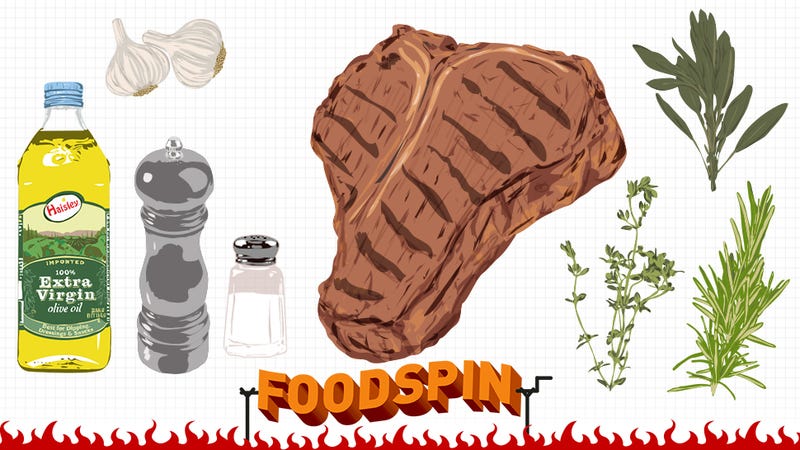 Albert Burneko is off. Your guest Foodspinner this week is writer and Drynuary evangelist John Ore.
Spring means it's almost summer, and summer means grilling, and grilling means steak (among other things, but certainly steak). And while there's nothing more fun than firing up the ol' Weber kettle and absently poking at your very own bone-in ribeye while five of your closest friends armchair-tong over your shoulder, there's nothing quite like the community of grilling something delicious that everyone can share. But what are you going to do with those lava-hot coals once the flank steak is done? Stare at them for 30 minutes while their life- and flavor-giving potential slowly burns out?
Not on my watch.
Even when done right, a good, hot charcoal fire (no, there's no other kind) can be kind of a pain in the ass to get going—so why waste it cooking something that is on and off the grill in five to seven minutes? Yes, you could—and should!—grill corn and ramps and snow peas and asparagus and garlic scapes and a bunch of other rabbit food to take advantage of those glowing embers. But how about we grill a bistecca all Fiorentina—a giant T-bone-style steak the size of your entire head that takes 20 minutes to cook, is served bloody as hell, serves four to six, and can be eaten with your fingers?
Let's stare at a fire and a hunk of meat long enough to finish three beers. The way our ancestors intended.
You'll need:
one T-bone steak, at least 3 inches thick (three to three and a half pounds)
one tablespoon fresh rosemary leaves, chopped
one tablespoon fresh sage leaves, chopped
one tablespoon fresh thyme leaves
four cloves garlic, roughly chopped
two tablespoons freshly ground black pepper
two tablespoons kosher salt
two tablespoons of the best extra virgin olive oil you can find
(Recipe adapted from Mario Batali.)
You're not likely to find a three-inch T-bone just hanging around wrapped in cellophane on a styrofoam tray listening to muzak at your local Piggly Wiggly; this means that you'll have to find a reputable butcher who can cut a giant T-bone for you to order. Watching someone whip out a friggin' hacksaw to prepare your food is incredibly satisfying and primal; this will help take the sting out of the $75 you're going to shell out for it.
Now, pay attention here: There's a difference between a T-bone and a porterhouse cut, but either can be used for our purposes. T-bones come from one end of short loin (a big cut from a little more than halfway down the back of a poor cow), and porterhouses from the other. Both include a bit of tenderloin (your Filet Mignon) on one side of the T-shaped bone, and a loin strip (your NY strip) on the other. The difference is how much. T-bones, since they come from the front part of the short loin, are dominated by the strip steak, with much smaller filets—sometimes just a bite or two. Porterhouses (from the other end of the short loin, remember) have more filet, but still pack sizable strip steaks. As a result, T-bones can appear longer and pointier, while porterhouses are more heart-shaped. Which one you'll go for is a matter of personal preference; just get your butcher to hack you off a cut that's as thick as the width of your palm, or the width of an adult's palm, if you have creepy baby hands.
As with the best grilling recipes for steaks, this one is pretty simple: a fresh herb rub, glued to the best meat you can find with the best olive oil you can find, followed by fire, knives, blood, and red wine (the more it sounds like a ritual sacrifice, the better). Unlike Batali, who inexplicably leaves garlic out of a recipe for once, I find a garlic-herb combo indispensable to just about any grilled-meat recipe. It's easy enough to make, adds flavor and crust, and sufficiently annoys the "salt-and-fire" purists without getting esoteric.
Admittedly, picking thyme leaves is one of the most annoying common cooking tasks you will face, but in the end, it's worth the work. Fresh herbs are much more aromatic than dried, deliver more flavor, and aren't likely to have been sitting in the back of your spice rack turning into dirt. My father-in-law once taught me a neat trick: Roughly chop the rosemary, thyme, and sage leaves together with the garlic at the same time. This allows you to infuse the garlic oils with the herbs as they are chopped, integrating the flavors nicely while also creating an economy of chopping motion.