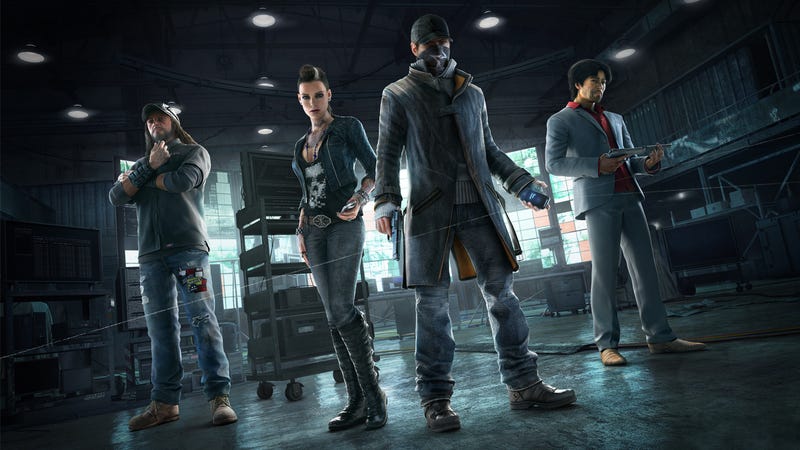 The promise of Watch Dogs was simple, and explained much of the anticipation leading up to the wantonly hyped prestige video game's May release: Finally—finally! (finally?)—someone was going to make hacking cool. In this case, it was the developer Ubisoft, whose ambition to make coding as engrossing as urban warfare—nay, to make them one and the same—was on par with spelunking the world's deepest caves and comprehending the existence of KimYe: Many had tried, and many had failed.
This could be its own Jeopardy! category: Botched Attempts at Fictional Computing. I'm sure I don't need to mention any examples, but it's so fun, I can't resist: The Net, Hackers (roller blading!), Swordfish, and most recently that Johnny Depp movie where he plays Max Headroom. The only movie (besides WarGames) that ever managed to make computer science compelling was The Matrix, which succeeded by reducing programming to a mere percussive act—tap + click + tap + click = guns!— rather than the laborious, sexless activity we know it to be.
So anyway, Watch Dogs. The buildup here was insane, and said as much about the dispiriting state of console gaming in 2014 (it's available on most of the major ones) as it did about the game itself. As one of the thousands of suckers who purchased a Day One Edition of the Xbox One, I've waited for more than eight months now for a title that lives up to the next-gen console's supposed potential, and so far nada. It's a testament to how terrible the lineup has been so far that I actually completed the entire Dead Rising 3 campaign, which was lame as fuck, but at least kept me engaged by letting me make guns out of dildos. I'm guessing a lot of gamers were feeling similarly (about the dearth of good games, if not the dildos): Please, God, give me a game I can get lost in and play endlessly for the rest of the year.
Sigh. Watch Dogs is not that game. Certainly it's not a total failure, but it's not endlessly or even moderately engrossing enough to justify all the clamor. Its biggest crime is not that it rips off Grand Theft Auto's anything-goes cityscape structure—plenty of games have—but that it does so so brazenly and clumsily, with tweaks to the formula that feel like cheap tricks, and a weak story (Hacker Seeks Revenge) that fails to yank you through the game world.
This game in fact steals so liberally from GTA that it almost feels like a cover band, just barely managing its own spin on the classic originals. There's the open world itself, in Watch Dogs's case a very gorgeously rendered Chicago. There's the usual arsenal of guns, but none feel special: The machine guns all shoot like machine guns, no matter how expensive or exotic they get. (Like guns? Have we got a game for you!) As with GTA, you can run over pedestrians and launch grenades wherever you feel like it, but inciting wholesale mayhem isn't nearly as much fun as it is in Los Santos. Likewise, the game world isn't as cleverly interactive as GTA's: Instead of soliciting hookers and launching off construction ramps, you can steal someone's pin code and spy on them chatting up their mom. Hoo-ray.