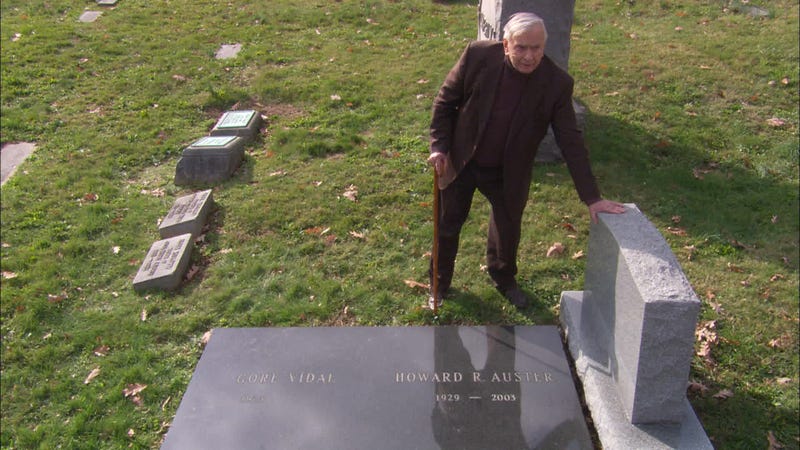 The opening scenes of The United States of Amnesia, the new Gore Vidal documentary, find the protagonist, back when he was still somewhat vital, hanging out in Rock Creek Cemetery in Washington D.C., resting place of Supreme Court justices and ambassadors and various other worthies. At one point, Vidal—who planned long ago to be buried there—leans on a grave marker that already has his name and birth year etched into it while naming a few folks he knows who are already interred nearby.
Vidal makes no mention of his longtime partner, Howard Auster, a cemetery tenant since 2003. He does, however, dwell on a classmate from his days at prep school: "My old friend Jimmie Trimble is back thataway."
In the early 1940's, Trimble was the top athlete at St. Albans, a school for Rockefellers and Roosevelts and other American nobles. He's still talked about by baseball coaches there, and regarded as one of the best pitchers in local schoolboy history. Legend holds that Trimble was recruited to turn pro while at St. Albans by Clark Griffith, owner of the Washington Senators, but chose to instead play ball for Duke University; after a year in college, he enlisted in the U.S. Marines during World War II and immediately starred as a pitcher in the service leagues. But he died at Iwo Jima in 1945, when he was just 19. A military baseball diamond in the Pacific theater was renamed in his honor shortly after his death, and at the 2005 rededication of Jimmy Trimble Field in Yona, Guam, President George W. Bush hailed Private Trimble as "a talented baseball player and outstanding Marine."
But he was more than a big man on campus or a war hero to Vidal. Asked early in the documentary if there was ever "a great love affair of your life," the writer says, "There was one very early, and one was really enough. I don't think it happens twice."
Trimble's headstone is shown as Vidal talks.
This wasn't the first time Vidal publicly declared his love for Trimble. He dedicated early novels to "J.T.," and a racy passage in his 1995 memoir Palimpsest described the physical relationship the author says he had with the star hurler, whose "large callused hands gripped a cock like a baseball bat."