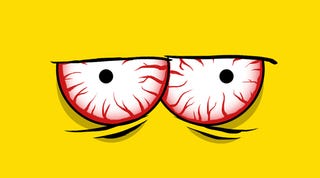 I wasn't allowed to watch The Simpsons growing up. It wasn't until I was 10 or so that my parents let my sister and I watch a single episode, and then only because they'd heard it had some kind of moral: "Bart learns a lesson," something along those lines. I remember the exact episode: "Radio Bart," season 3, episode 13. Aired in January 1992. I was so stoked to finally be able to watch the show, even if it meant the possibility of having to learn something. (I didn't learn anything.)
Anyway, I just watched The Simpsons for 24 hours straight. The last episode I made it through? "Radio Bart."
As you are probably aware, FXX is in the midst of a 12-day marathon of every single Simpsons episode ever, in chronological order. I mainlined the whole first day, 10 a.m. Thursday to 10 a.m. Friday. Bathroom breaks only, plus once I went downstairs to meet the pizza-delivery guy. It was a great idea at first!