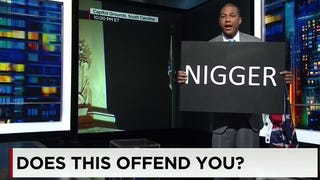 Last night, CNN host Don Lemon succeeded in doing what he sets out to do every night, garnering attention for the news network that vastly overpays him to pose the question, "But what if this indefensible position isn't wrong—or at least isn't as wrong as you think?" He held up a Confederate flag, and then a placard with the word "NIGGER" on it, and posed a question: "Does this offend you?"
Lots and lots of people took to Twitter to yell or laugh at Lemon, and that probably made him and his employers happy on some level; this is, after all, his schtick. Every time a white person commits an atrocity upon a black person or black people in a chain of events compelling enough to garner national attention, Lemon is there, emerging to ask a series of explosive, facile questions that don't matter.
Whatever. As we've chronicled before in this very space, this dude is, explicitly, a joke with little ability outside of his superhuman inability to muster shame. And maybe more to the point, the segment that followed that suspect opening wasn't even that bad. The "NIGGER" placard could probably be best interpreted as a bit of standard and even well-meant throat-clearing deployed in service of making an actual point, in this case that South Carolina governor Nikki Haley coming forward to say, "It's time to move the flag from the Capitol grounds," represented an opportunity to talk about what that flag really means, rhetorically.