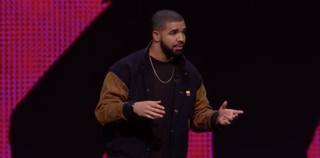 Today Apple announced a new streaming music service, dubbed Apple Music, with a little help from Drake. It may be a new venture for Apple, but don't be duped: it's the same as all the other streaming services out there now.
Here's the deal with Apple Music: you get streaming access to the entire iTunes library for 10 bucks a month. There's also a $15/month family plan that is accessible to up to six users, but it's not entirely clear what kinds of limits will be placed on that for each user. (And it's safe to assume that there will be limits.) Apple will make a big fuss over the interface, a big collection of curated playlists, and a 24-hour radio station, but the long and the short of it is same streaming shit, different interface. There's not a free, ad-supported option either.
Spotify's $10/month. So's Rdio. So's Tidal. They all have their respective selling points. Tidal has exclusive video? Yeah well so does Spotify. iTunes has podcasts? Well, those are on Rdio and Spotify, too. iTunes Music has Drake? Tidal's got Jay Z. Tidal's 10 bucks a month? They're all 10 bucks a month. And that's because they're all the same. Each service offers some kind of exclusive something that basically evens out in the end. Although, nana-nana boo-boo, iTunes is the only one with Taylor Swift. It does not, however, have Garth Brooks because Garth Brooks does not believe in streaming music or the internet. Garth Brooks shows no signs of adding his music to iTunes in this decade.