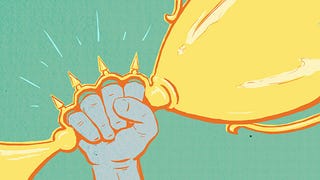 I was at a parent's night at my kid's school a couple of years ago—one of those things where you go to the school at night to meet the kid's teacher and eat a cookie and listen as the teacher tells you all the shit they do in class every day, and then you nod your head in approval. "Ah, yes. MUSIC TIME. That will be good for them." Anyway, I'm standing there like the average awkward dad. I was too shy to talk to other parents, so I just walked around the classroom, picking up shit and putting it back down. I was particularly enthralled by the tambourine. When it came time to talk to the teacher, we gathered in a circle and listened to her informal presentation. One of the dads became very animated.
DAD: I would like to know what you're doing to help make the children competitive.
TEACHER: Competitive?
DAD: We want him to be competitive.
TEACHER: Well, all the students are two years old, so mostly this is just structured playtime.
DAD: But I want to make sure that he will be competitive.
TEACHER: (floundering) Oh, well he'll be very competitive.
DAD: OK, good.
There was a moment of awkward silence, and we moved on to the subject of crafts.
---
I never won anything as a kid. Contrary to the modern cliché, they've ALWAYS handed out participant ribbons at swim meets. I know because the doorknob to my childhood bedroom was festooned with many, many swim-meet ribbons, none of which connoted any sort of meaningful victory. There were seventh-place ribbons and eighth-place ribbons and some that just said FREESTYLE HEAT on them. I think the highest I placed was fourth. Maybe. If so, it was probably only because the event had four kids in it. And trust me: I knew exactly how meaningless those ribbons were. No child has ever been hoodwinked by phony accolades. They know when they suck.
I never won any prizes at the science fair, or any sort of talent competition. I never won an athletic honor or an academic prize. I got into a fancy prep school, but only because my dad went there, and my dad only got in because his stepdad was a teacher there. Once I got in, I was straight B-minuses all the way through (better than my old man though; he was all C's). Sometimes they would hold an awards assembly at the end of the year, and I would shut my eyes and hope my name got called for an award even though I knew damn well I had done exactly nothing to distinguish myself.
This was right at the tail end of the American era where you could get into a decent college so long as you attended some fancy dipshit school and did nothing else. These days, if your folks have enough money, they can still probably pull this trick off with their croquet buddy in the Harvard admissions office. But otherwise, in modern America, you better have destroyed THE COMPETITION at something in order to gain a foothold into some big college that will offer you a fighting chance at paying off the eventual, crushing debt that same college will heap onto your back. You better have won some academic prizes, or won some kind of prestigious tuba scholarship, or invented a synthetic cell membrane as part of a competition staged by Pfizer so that they could get new product ideas for free. If not, you will be left for dead.
We are a nation awash in competition. Want to work at Amazon? There are thousands of applicants hoping for the same thing. Want to go to the Hollywood stages of American Idol? Well then you'll have to get past the throng of wannabes crowding the audition lines at the Twin Pines Mall, shown on TV with a tasteful crane shot. Wanna get into Harvard? HAHAHAHA NO ONE ACTUALLY GETS INTO HARVARD THEY JUST SAY 5.9 PERCENT OF APPLICANTS GET IN TO GIVE YOU FALSE HOPE. Wanna be president? You better be strong enough to withstand a million mobilized opposition-party workers laboring day and night to let the country know your mom is a whore. There are reminders everywhere that you and your kids won't amount to anything unless you can beat a nameless, faceless legion of competitors. There is always competition out there, waiting and hungry and formidable. The whole damn country is a single-elimination bracket.