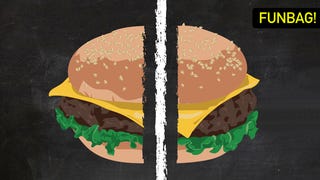 Time for your weekly edition of the Deadspin Funbag. Got something on your mind? Email the Funbag. Today, we're covering soggy cereal, hide and seek, underwear, and more.
Before we get to the Funbag, you should know that very soon, it's going to be time for the 32-part satanic incantation of our WHY YOUR TEAM SUCKS NFL previews. So much sucking to do! So if your team sucks (and I do mean your team; don't be the asshole Redskins fan who writes in to bitch about the Cowboys), shoot me an email. Include the team name in your subject heading, because that's how I sort these things. God damn the Niners for having three possible name permutations.
Also, I'm vacation next week. Your Funbag host will be an old favorite, so do tune in. Now, let's get to your letters:
George:
Why is it not the standard for all sandwich/sub/burgers to be cut in half or served with a knife? I have gone pretty far out of my way for a utensil for this at barbecues or even a sporting event. It's easier to handle, you can see what's going on inside (toppings/meat temperature, etc.) and your first bite is always good instead of pure bun.
I have to fundamentally disagree with you on the hamburger part. If you want to cut a sub or a PB&J in half (I tried to figure out if I liked a diagonal cut or a straight cut on the PB&J better, but I can't bring myself to give a shit), that's fine. But a burger? No. I hate bossy foodies, and so should you, but that's inadvisable. You need to keep all the beefy juices inside the burger as you eat it, so you get the maximum amount of hot blood and tallow in every bite. If you cut the fucker in half, then it leaks all over the plate and soaks the bun (not that I'm against a sopping-wet bun) and makes a mess of everything. And putting extra ketchup on the thing is also a mess. Ever take half a bun off a burger? The thing just goes toppling right over. I feel like a fool.
If you're eating a really well-made burger, you shouldn't need to cut it in half. You should be attacking it from the perimeter because the bun edges should be all crispy and buttery and you should still be able to get some beef and bacon and lettuce in the bite, too. If you cut it in half and then go right for the center, you are not getting the full TEXTURAL elements. Textural elements are so very crucial. Avoid cutting a burger in half. I don't even like it when the joint plunges a steak knife into the center of the thing, like I'm supposed to pull it out like it's Excalibur. Your big steak knife does not impress me, Ruby Tuesday. You should avoid breaching the patty until you've taken your first bite.
Personally, I like holding a very large sandwich in my hand. If you want to leave my steak-and-cheese sub uncut, I will gladly pick it up like it's some kind of giant meat saxophone and chow down on the whole thing. It makes me feel ALIVE to be handling such a large piece of food. Really gets my engine going. Weaker men cannot handle this 12-inch double-meat BMT, but I can! I'm fine with the entirety of a sandwich.
By the way, I know this is standard for club sandwiches, but cutting a sandwich in quarters is fucking insane. You just served me four Jenga towers. You even had to put a toothpick in there because it's such a delicate building job. You wouldn't need those toothpicks if you just cut the thing once, or not at all. Club-sandwich cutting has been co-opted by cheapskate swim-meet moms who order one goddamn sandwich for the whole bridge foursome to split. I don't approve.
Danny:
How long could I run a Fortune 100 company before getting fired? For example, let's say Coca-Cola just called one day and said, "Hey, you're the new CEO. Go for it." I'm late twenties/early thirties, professional degree, a few years doing real-life business things. How long would I last?
Well, Coca-Cola just forced its current CEO to take a pay cut (down to a paltry $20.4 million, the poor fucker), so you would be under some pretty heavy scrutiny going into that job right off the bat. It would be your responsibility to get more people to drink more Coke ,even though people are slowly beginning to realize that Coke is fucking poison. You'd have to secure lucrative contracts with the Chinese government to supply all its schools and prisons and secret prisons and double secret prisons and schools that are actually prisons with your product, just to keep the stock afloat. You'd have to acquire all sorts of little drink companies and then fold them into your corn-syrup factories. I would give you a year before the board finally negotiated a severance package for you that included $500 million and a Georgia plantation mansion.
Many CEOs are incompetent, and many of them are horrifically overpaid. I'd like to think of that job as a bloated reward for all the shit-eating and brown-nosing you did to get it. You issue mission statements. You have VISIONS and tell other schlubs to execute them ("I'm thinking of a new kind of Coke that has elements of Kale in it … SET FORTH"), and you dictate where and when any meeting involving you should take place ("CEO Danny would like everyone to meet him at the summit of Mount Ranier tomorrow at 3 p.m. sharp"). You get to have the big ideas and leave the tedious crap to your underlings.
I used to work at a couple of big ad agencies, and the CEOs were basically treated like the POTUS. If they walked by us in the hall, someone would always whisper, "Holy shit! That was the CEO!" as if seeing the CEO in the office of the company the CEO runs was a huge surprise. Shit, whenever I see Nick "Blogging Morrissey" Denton, I'm like OH FUCK THERE'S THAT GUY WHO COULD FIRE US ALL. People shit their pants around CEOs. They sit up straight in meetings and put their phones away and try their best to limits facial tics … and all the while, the CEO could be a complete pud who only got the job because he was good at cooking numbers when he was in the finance department.
That's not to say the job is easy. Remember, if you fuck up that job, it means you could end up firing THOUSANDS of people. You could burn the stock down to nothing and destroy many people's life savings. There is a certain mental burden to that, unless you're a sociopath. (And many CEOs are!) You can last long on the job if you can keep up the façade of authority and look like you know what you're doing. That means being good at bullshit meeting small talk and being somewhat well versed in 900-page industrial contracts designed to cut the union's pension by half a percent.
If you're good at that, you could probably last a few years before the market's unrealistic demands did you in. But otherwise, I give you a year, because no matter who you are, it's only a matter of time before you're found out.
Avi:
If you were inserted as a goalie for an NHL team for an entire season, what kind of save percentage would you have? Assume your teammates don't slit your neck kicking you in the face out of frustration. I'd say .600 is possible. Between shots you can see, and just happening to be a fat American standing in front of a relatively small goal, you could stop more shots than got past you.
I don't think so. Every time I watch a hockey game, the goalie makes 10 to 30 saves that are completely insane. Those saves are a matter of routine to Martin Brodeur, but you and I would have no chance of making them. Yeah, you might be able to block a bad shot simply by standing there and letting it hit your face, but eventually players on the other team would notice your weakness(es) and exploit them fully. Your save percentage would drop every game until, by the end, you were allowing 75 goals per contest.
And that's not even considering the mental drain. There is a hard rubber puck coming at you at all times. Padding or not, that is terrifying. I would crack. I would curl up into a ball and just lay in front of the net, accepting my abuse. FACT: NHL goalie is a harder job than CEO.
David:
Assume that cloning could replicate a person's personality, skills, etc. to the degree that if you cloned Tom Brady you would always get a Hall of Fame QB. How cool would it be to clone players and create All-Star teams that can play in a separate league? Want to know how the '90s Cowboys would have fared against the Steel Curtain? Done. I don't think it would be good to replace the NFL with clones; maybe create a separate league for just the clones.
Well, you could use the clones to eliminate the threat of injury in the current NFL. If Tom Brady tears up his knee, the new clone CBA would let you IR him and put Tom Brady 2 in there, with minimal damage done to the offense. You would only allow one Brady to play at a time, though. If you let EVERY team clone and play Tom Brady, people would lose interest. It's Brady overload. I would kill all his clones personally. I bet NFL owners would wet themselves at the reduced labor costs. Tom Brady 5 will pay for $50,000 because he loves the game!
Anyway, this would allow Roger Goodell to realize his vision for a 24-game season, and he could expand into Europe and China without diluting the talent pool. Instead of creating an offseason old-timer clone league, he could just fold Johnny Unitas 2 and Jim Brown 2 into the London Rippers expansion draft. I would watch this. I would not get sick of football if Joe Montana 2 played against Walter Payton 2 in Harbin. That is some mind-blowing shit.
Kevin:
Someone put this signature at the bottom of a work email I received the other day:

*Please excuse any typos, this message was Sent from my iPhone*

Is this still a thing?
I still get it once in a while, and you can tell right away that the person using that sig is a complete asshole. Who are they to assume I'll just excuse that typo? What if it's a doctor emailing and his typo is that my cholesterol is 1540 and not 154? Fuck that guy.
These are people who are giving themselves permission to be lazy, and they're giving themselves permission to email sloppily in places where they shouldn't be emailing. If you're sending an email from your phone, and you don't want to go back and correct something, this is probably because you're in a car going 80mph and shouldn't be looking at your fucking phone. It also gives the dude emailing a false sense of importance, like GOD I HAVE SO MANY EMAILS TO SEND EVERY DAY SO I JUST DON'T HAVE TIME TO SPELL YOUR NAME RIGHT SORRY K THX BAI. Horseshit. People are never ever ever as busy as they claim to be.
Typing on an iPhone is still a shitty user experience. It's virtually impossible to put the cursor where you want it, especially when your fingers are always covered in frosting like mine are. Copying and pasting is a fucking disaster. And there are no arrow buttons to just move the text prompt to where you would like it. But just because the technology needs improvement doesn't mean you have permission to fire off an email that's barely in English.
HALFTIME!