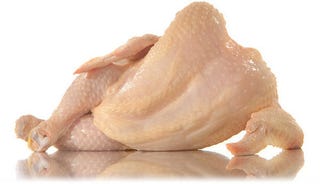 It all started last week, when The Kitchn announced that chicken thighs are where it's at. "There needs to be a revolution in the poultry world," they insisted, and followed with a pretty strong argument to forget about those breasts because "chicken thighs deserve the real love" by posting a recipe for Lemon Thyme Chicken Thighs done in cast iron.
Then, on Friday, Sifton got in on the act, working out Andrew Zimmern's working out of a recipe for chicken thighs with shallots that had its origins in Martha Stewart's sadly defunct Everyday Food magazine. (Miss u every day, Everyday Food.)
They say three's a trend, so by the powers vested in us, we're declaring that, upon the publishing of this post, chicken thighs are officially The It Food Of Right Now. Of course, Albert also wants to remind you that he started this two Labor Days ago with his guide to barbecuing chicken thighs (for people who are not assholes).