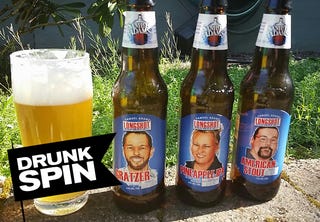 After spending the last few millennia in aggressive pursuit of leisure and convenience, mankind—by which I mean a vocal minority of reasonably well-off people who are bloggers or my friends—has started voluntarily emulating a dirtier, more troublesome era when we had to make things for ourselves.
Time was, if you wanted a rope or a bike or a pickle, it was easier and cheaper to just make your own rather than hunt down and negotiate with someone who made those things for a living. Those days are long gone. Now a lot of people produce shit not out of necessity or thrift, but instead as a hobby. This is blatantly disrespectful of human evolution, but even my fellow progress-embracers do it sometimes.
Sometimes I do it! Last fall I made apple-habanero hot sauce, which was delicious, and I'm quite proud of myself; I can't believe it took me this long to mention it, and maybe I'll send you some from the next batch. However: The world is already filthy with perfect hot sauces that could have been acquired for much less time, money, and pain. But I dunno, sometimes it feels good to make your own stuff. That's ridiculous, but here we are.
The cooking of real food (not hot sauce) generally falls outside of this hobbyist classification, because it can be cheaper and healthier to make your own meals, and it's arguably more convenient, too. I'm not talking about instances in which we get tangible benefits out of doing it ourselves. I make flavored vodka because it's much better than the commercial versions, and I make my own pizza because I'm not always looking for one of the cheese-besieged saturated-fatzzas that dominate the open market.