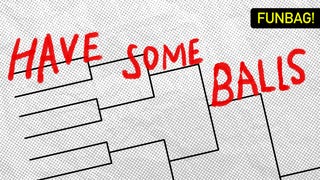 Time for your weekly edition of the Deadspin Funbag. Got something on your mind? Email the Funbag. Today, we're covering donut-shop etiquette, the Duke porn star, blind dates, and more.
Before we get to today's Funbag, a quick bit of news: I'll be singing the U.S. and Canadian anthems tonight at the Raptors-Hawks game in Atlanta. I've also taken over the Hawks' official Twitter feed (@ATLHawks) for the day. Or at least until they kick me off. So join me today for MAXIMUM HAWKITUDE.
Now, your letters:
Mike:
We need a universal scoring system for NCAA bracket pools. What is the fairest point system? Is it one point for Round 1, two points for Round 2, and just continue up to six points for the championship game? Or is it 1,2,4,8,16,32 where the points double in value for each round of the tourney? Are there bonus points for correctly picking upsets? I feel a standardized system is well overdue.
There should be a bonus for picking upsets, since everyone wants to be rewarded for picking that 12-over-5 matchup that wasn't really that much of an upset at all. And obviously, the bonus should depend upon the discrepancy between seeds. If you pick a 16 to beat a 1, you should get 15 extra points. If you picked a 9 seed to beat an 8 seed, you get one bonus point, because no one gives a shit. Both those teams are garbage.
So the standardized scoring would look like this:
Round 1: 1 point
Round 2: 3 points
Sweet 16: 6 points
Regional final: 9 points
National semi: 12 points
Champ: 15 points
Upset bonus: 1 point per difference in seedings
Correctly guessing all Final Four teams: 25 points
That last bonus should be huge, because you deserve to win your bracket if you got the Final Four dead-on, especially if it's a weird Final Four. One year, I got the Final Four right, along with the semis and the champ (it was the year UConn beat Duke), and to this day, when I think about it, it still brings me an unreasonable amount of joy. It's like having a child get into Harvard, only Harvard pays YOU!
This would encourage people to pick upsets, and it would ensure that a chalk bracket doesn't get overly rewarded. Because chalk brackets suck.
York:
Which famous person would you be most devastated to find out was a total dick? For discussion purposes let's just keep this to pop-culture figures, so no historical figures like Abraham Lincoln or Martin Luther King. My first instinct would be Mr. Rogers, but since it's so well-documented that he was a good person I would have to go with Morgan Freeman.
Awww, why limit it to pop culture? I want historical figures in there, because then Jesus could be number one. Imagine finding out that Jesus' best qualities—forgiveness, sacrifice, goodwill toward all men—were the byproduct of careful branding, and that in real life, he was a complete asshole. After all, plenty of people thought Tiger Woods was a swell guy before he turned out to be the world's lamest whoremonger. For all you know, Jesus' disciples carefully edited out every story about Jesus being a bad tipper, Jesus leaving a floater in a Judean shitpit, and Jesus having people roughed up for daring to make eye contact. And where did he stand on TEH GAYS?
Abe Lincoln was famous for telling off-color jokes ("And the bartender said to the mulatto, 'I guess you'll be having the black & tan!'"), and Martin Luther King, Jr. was a known philanderer. Every person you've ever known or ever known of has shades of dickishness to them. It's up to every man to rise up above his own inherent dickishness and do something good that makes up for it. So obviously, it would be disappointing to learn that someone you liked and respected turned out to be an unrepentant asshole. My personal choice, of course, would be Dave Grohl. I don't want to live in a world where the nicest man in rock turns out to be a fraud. Turns out he killed Kurt so he could hog all the glory for himself! Such a drummer move.
Kyle:
I graduated college about a year ago. During my sophomore year I became friends with this girl, Sarah. Eventually we both graduated, I went back home, and though we've talked, I haven't seen her since. Fast forward to about two months ago. In a group text with my buddies from school, one of my friends dropped in a link to a porn website. I opened it up and sure enough, it's my friend Sarah.

If/when I do see Sarah again, is there a good way to bring this up in conversation? Because I'm sure that if I were to ask her what she's been up to since we've graduated, she's not gonna reply with "Oh you know, just wearing a brown paper bag over my head while a camera films dicks coming at me from all angles." And slipping a, "Hey I heard you were doing balloon fetish porn" into the conversation probably isn't gonna go too smoothly either. Also, am I a bad friend because I fapped?
You're not a bad friend because you used the movie for self-gratification. That's a fairly standard "guy friend would still like to have sex with his supposedly platonic galpal" move. Nothing much surprising there.
If you're interested in maintaining your distant friendship (Why? Seems disposable!), or you're interested in reenacting a scene or two the next time you see her, I wouldn't bring up the fact that you saw the porno. Strippers and porn stars like keeping their worlds separate. I know this because I saw The Wrestler. Offscreen, Sarah is still Sarah, the fresh-faced coed you know and love. Onscreen, she's Jazzmyn Foxx, Queens of the Buttsecks. She doesn't want you blurring those lines.
That's the awkward part of being a stripper or a porn star (I mean, apart from the stripping and/or porning parts). You hope that you can keep your worlds separate, and you're basically relying on everyone's good manners to pull it off. But you can't get that riled up when someone is like, "Oh hey, I saw you in Buttman Goes to Rio 37." Because it's out there. Like Twitter, porn is public. That's why the Duke porn star thing is so annoying. You can't appear in a hardcore porn video and then expect everyone to have the good taste to "respect your privacy." You sold your privacy. That's how porn works. That's what they give you money for. You can say it "empowers" you all you like, but no one will ever believe you, because every porn star ever either ends up dead from drugs or born again.